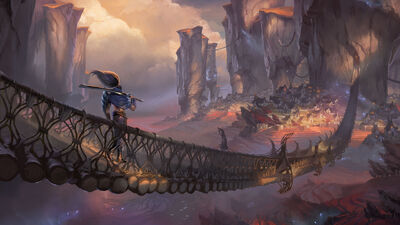 For the lore region, see Ionia.

Ionia is a Legends of Runeterra regional card set based on the lore region of

Ionia.
While Ionia doesn't boast the strongest creatures, they utilize evasive mechanics to bypass enemy defences and avoid incoming damage.
Main Mechanics:

Recall,

Stun,

Support,

Spellcasting,

Barrier,

Enlightened, Allied & Enemy

Ephemeral, Hand Buff
Lesser Mechanics: Situational

Challenger,

Draw,

Fizzle,

Summoning,

Cost reduction
Description

Swift and Sure
Balance: the cornerstone of the First Lands we know as

Ionia. Once, it existed aplenty, with the spiritual and physical worlds coexisting together in harmony...but such serenity is fleeting. Noxus, bent on imperial expansion, brought their insatiable hunger to Ionia's shores. Though the empire was driven out, there is an air of uncertainty hovering over the land. Are you willing to pay the price for peace?
List of Cards
Trivia
Media
References
Community content is available under
CC-BY-SA
unless otherwise noted.