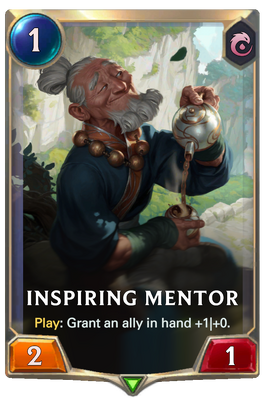 Quotes
 "You'll thank me later."
 "My training is... unconventional."
 "You'll soon understand my methods."
 "One sprint for each crab I saw today."
 "Bring me tea... to gain the strength of rivers!"
 "Get me a sweet bun! Heightens the senses."
 "I'll show you how it's done."
 "Tea... for two."
 "How did that move go?"
 "This isn't part of the training!"
 Inspiring Mentor cries.
 "My sweet bun!"
Trivia
Internally, this card is called Kinkou Trainer.
The younger version of Sparring Student is featured in the background.
Media
Change Log
Community content is available under
CC-BY-SA
unless otherwise noted.