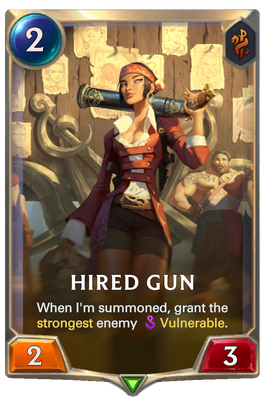 Quotes
 "Get bloody. Get paid."
 "Who's on top of the bounty board today?"
 "I deal in coins and carnage."
 "Success gets you noticed around here."
Allied Miss Fortune present
 "Nmm, you're cute when you're armed."

 "Firepower's always in style."
Hired Gun:

Miss Fortune:
 "You've got dangerous eyes. I like that."

 "Not just the eyes, ya know."
Hired Gun:

Miss Fortune:
Enemy Gangplank
 "I'll make corpses of 'em all."

 "Ah! The top of the bounty board himself."
Hired Gun:

Gangplank:
Enemy Jagged Butcher
 "Bounty board knows me name."

 "With luck, your bounty covers half a meal."
Hired Gun:

Jagged Butcher:
 "Don't stand in my way."
 "You point, I shoot."
 "Time to make some coin."
 "Not my first gunfight."
 "Ooo, got some fight in ya."
 "Make it worth my while."
 "Son of a..."
 Hired Gun groans.
Trivia
Internally, this card is called Bounty Hunter.
Media
Community content is available under
CC-BY-SA
unless otherwise noted.