Hextech Protobelt-01
is a
finished item
in

League of Legends
.
Recipe
Cost Analysis
Gold Value
Gold Efficiency*
94.87%

gold effecient, without its active.
is
Similar Items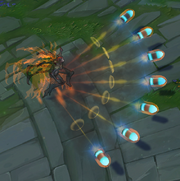 Notes
The bolts are blocked by terrain and structures, and cannot damage structures.
Maximum damage against one champion or monster, if both the dash and all bolts hit, is Template:Pp18

(+ 42.5% AP)

.
The maximum damage against one minion, if all bolts hit, is Template:Pp18

(+ 200% AP)

.
Strategy
Since minions take full damage, the active can be used quite effectively to clear minion waves, especially against super minions due to their larger size.
Trivia

Patch history
Bug Fix:

Active can now be properly used during , cancelling the channel.
AP ratio reduced to

25% AP

from

35% AP

.
Additional damage per bolt reduced to 10% from 20%.
Protobelt's dash now disables spellcasts and channels for the duration.
Bug Fix:

Fixed a few interactions between Hextech Protobelt-01's active and empowered attacks (ex. ).
Grants +300 health.
Grants +60 ability power.
Grants +10% cooldown reduction.
Grants the Unique Active –

Fire Bolt:

Dash forward and unleash a nova of fire bolts that deal Template:Pp18

(+ 35% AP)

as magic damage (40 second cooldown, shared with other Hextech items). Champions and monsters hit by multiple fire bolts take 20% damage per additional bolt.
References
Starter items
Potions and Consumables
Trinkets
Distributed
Basic items
Advanced items
Finished items
Minion and Turret items
Special Game Mode Exclusive items
Removed items
Community content is available under
CC-BY-SA
unless otherwise noted.