Raise a Floppa - The Loop
Play Sound
Hextech Mayhem: A League of Legends Story (or Hextech Mayhem) is a single player, rhythm platformer game developed by Choice Provisions and published by Riot Forge. In this fast-paced rhythm runner, every action has an explosive reaction and no amount of mayhem is too much. Take on the role of yordle and Hexplosives expert Ziggs as you rampage through the neighborhoods of Piltover.[1] The story of Hextech Mayhem is not considered canon to the main timeline of Runeterra.[2]
Champions
Playable Champions
The game only has one playable champion from

League of Legends:
Cameo Champions
The game only has one champion from League of Legends that appear as an enemy:
Gameplay Overview
Bomb, bounce, and bop to the beat of the music to avoid obstacles, disarm enemies, and light fuses to achieve maximum chaos. Cause musical mayhem while outrunning no-fun-allowed

Heimerdinger in your quest to build the greatest bomb the world has ever seen!
Use the Freestyle Mayhem System to create spontaneous blasts and grab bonus points… all while dodging the fun police and showing them what they're really missing.
Leave no fuse unlit in Hextech Mayhem: A League of Legends Story.
Gameplay Features
Get Your Groove On
Bomb to the beat as you bounce over obstacles, evade enemies and light up the city with musical madness.
Freestyle Mayhem
Like to improvise? Take advantage of off-prompt opportunities to compose your own chaos with the Freestyle Mayhem System. Extra boom, extra points!
Feast Your Eyes
Dash through Piltover, a city powered by magic and science—and set it all ablaze! Watch your rhythmic mastery set off blasts and booms to create an unforgettable show.
Beyond the Rift
Explore the bustling backstreets of Piltover with Ziggs and Heimerdinger! Meet the classic champions from League of Legends in this pick-up-and-play game.
Trivia
Pre-ordering the game came with an exclusive Ruined skin for .
Hextech Mayhem features several exclusive skins for Ziggs including Teemo Ziggs, Jinx Ziggs, Bilgewater Ziggs, Bomb Artiste Ziggs, and CommanderVideo Ziggs.
Media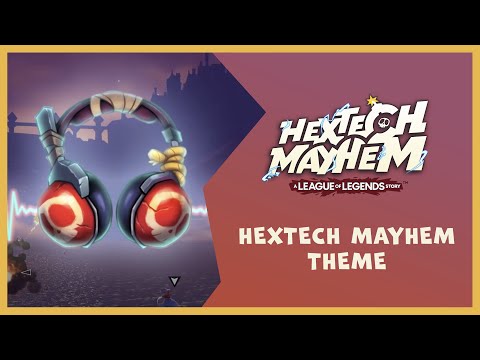 Related Music
See Also
References