No Man's Sky Update - The Loop
Play Sound
For the champion statistic, see health.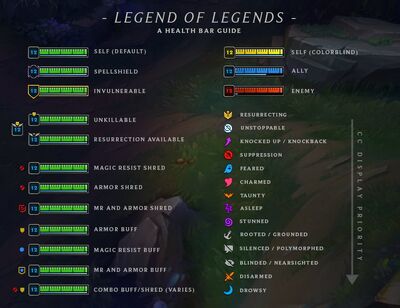 The health bar is a visual indicator that shows how much life a unit has.
Health bar frame
A red frame signifies a unit is within the threshold for an execution effect:
A bluish-purple frame with cat ears signifies a unit is
with :
State visual effects
State
Image
Mega state
Spell shield

Invulnerability

Mortality state
Extra life

Resurrection

Unkillable

Zombie

Mobility state
Unstoppable

Defensive windows state
Armor shred

Magic resistance shred

Resistances shred

Armor up

Resistances up
Other visual effects
| Effect | Image |
| --- | --- |
| Ammo | |
| Burst Damage | |
| Healing | |
| Structure Death | |
Effect
Image
Shield
Normal

Physical

Magical

Grey health
Revealed champion.
Multiple health bar such as
.
Trivia
The Armor up, Magic Resistance up, and Resistances up only indicate a temporary increase in Armor, Magic Resistance, or both, respectively.
The Armor up, Magic Resistance up, and Resistances up will only have a visible icon if, after the champion gains the temporary bonuses, the following equation is true.
Sources that provide temporary resistances, and can display The Armor up, Magic Resistance up, or Resistances up icons, will be added together for the purposes of determining if the icon will be visible.