Raise a Floppa - The Loop
Play Sound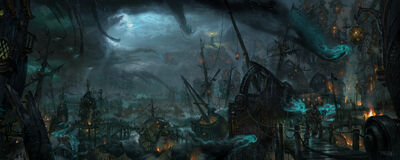 The Harrowing is an event and a force of the undead that attacks all across Runeterra, wherever the living might reside. It started some time after the Ruination and has been a constant threat to the living ever since.
History
The Shadow Isles were once a beautiful realm, long since shattered by a magical cataclysm. Now, Black Mist permanently shrouds the land, tainting and corrupting with its malevolent sorcery. Those who perish within it are condemned to become part of it for all eternity… and worse still, each year the Mist extends its grasp to reap more souls across Runeterra.
At times, the Black Mist reaches across the seas — and the spirits of the dead go with it. The Harrowing strikes most frequently in Bilgewater. Those slain by the spirits during the Harrowing are damned, their souls dragged back to the Shadow Isles when the Black Mist retreats.
While weaker spirits may only be able to manifest during a Harrowing, more powerful entities can always do so, sometimes even venturing beyond the Shadow Isles.
When

Viego returned to Runeterra, he unleashed multiple harrowings with the aid of Vex in search of the fetters of Queen

Isolde's sold. His harrowings would corrupt not only people and animals, but the very land as well.
Relations
Media
See Also
References