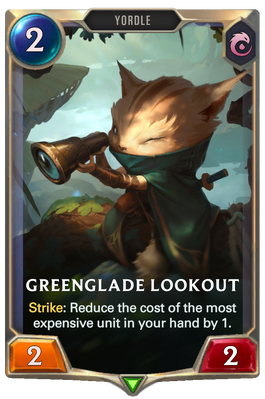 Tutorial Version
Quotes
 "What do these yordle eyes see?"
 "Check the high ground!"
 "Patrol one!"
 "There, through the trees!"
 "Sky-march formation!"
 "As we practiced, team!"
 "What have we here?"
 "They're here. Sound the alarm!"
 "Call for reinforcements!"
 "Bring the others."
 "Intruder! Get 'em!"
 "I see you there!"
 Greenglade Lookout gasps.
 "They're coming..."
Notes
If there is a tie for "Most Expensive unit in your hand", the left most one will be the one reduced.
Trivia
Internally, this card is called Gate Grove Lookout or Yordle Watch 02.

Yordle Watch 01 is for an earlier attempt at artwork for this card.

Yordles accustomed to the magic of Bandle City, like Greenglade Lookout, find themselves right at home in the Ionian wilderness, where they can choose to hide themselves away or live among humans as the mood suits them.[1]
Media
References
Community content is available under
CC-BY-SA
unless otherwise noted.