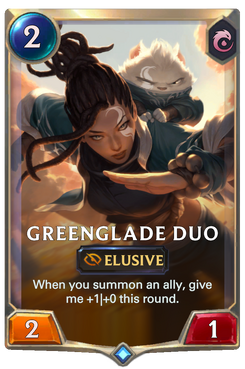 Trivia
Internally, this card is called Lowlander Duo.
Kay is the name of the woman and Zern is the name of the Yordle.
The Greenglade Duo are rushing home after finding out something is amiss in Kay's village. It's implied to be the second Noxian invasion.
Kay is voiced by Tara Platt (whom also voices ) while Zern is voiced by Brian Kimmet.[1]
Quotes
Allied

4Yasuo present
Media
Change Log