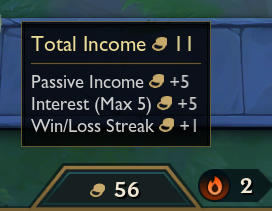 Gold in

 Teamfight Tactics is the accrue income over the game that a player can spend on experience, champions and re-rolling a players champion pool. Choosing when to spend gold is one of the pillars of mastery for Teamfight Tactics.
Gold can also drop like items, requiring the Little Legend to retrieve them.
Income
Affecting Gold
Upcoming galaxies:

Every round you gain 8golds
Patch history
Added:

Space Pirate
Streak gold changed to 2(1g), 3(2g), 4+(3g) from 2-3(1g), 4-6(2g), 7+(3g).
Streak gold is now paid during PVE rounds.
More chance to get gold in Golde Boxes
Loot Boxes: Removed high gold drop possibility.
Hovering the "Buy XP" tooltip now displays how much gold you need to hit your next level.
Removed:

Pirate
Reduced average gold value in orbs.
INcreaseaverage gold value in orbs.
Added:

new Mystery Box system.
References
| | |
| --- | --- |
| Basic | |
| Advanced | |
| Consumable | |
| Removed | |
| Disabled | |
Community content is available under
CC-BY-SA
unless otherwise noted.