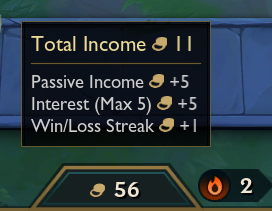 Gold in

Teamfight Tactics is the accrue income over the game that a player can spend on experience, champions and re-rolling a players champion pool. Choosing when to spend gold is one of the pillars of mastery for Teamfight Tactics.
Gold can also drop like items, requiring the Little Legend to retrieve them.
Income
Affecting Gold
Patch history
Added:

Space Pirate
Streak gold changed to 2(1g), 3(2g), 4+(3g) from 2-3(1g), 4-6(2g), 7+(3g).
Streak gold is now paid during PVE rounds.
V9.13 - Added
References
Basic

Basic
(Shadow)

Advanced

Advanced
(Shadow)

Consumable

Removed

Disabled
Community content is available under
CC-BY-SA
unless otherwise noted.