"You belong in a museum!"

This article or section may contain obsolete information, but exists here for historical purposes.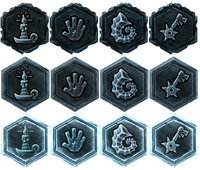 Glyphs are the blue runes. They have magic boosts as their primary runes, which are very useful to spellcasters. There are no Glyphs of Scaling Armor, Armor Penetration, and Health Regeneration. There are 22 variants of glyphs.
The Glyphs are represented in four forms: a candle in a candle holder, a hand, a sea shell, and a star key.
List of Glyphs
The following table describes all of the glyphs, along with their effects and their rank. For a complete list of all runes, see the list of runes.
Name
Rank
Tier 1 (Lesser)
Tier 2 (Normal)
Tier 3 (Greater)
Ability Power
Primary
0.66

30 Influence Point

0.92

165 Influence Point

1.19

410 Influence Point

Armor
Secondary
0.3908

15 Influence Point

0.5471

80 Influence Point

0.7034

205 Influence Point

Attack Damage
Secondary
0.1575

15 Influence Point

0.2205

80 Influence Point

0.2835

205 Influence Point

Attack Speed
Secondary
0.35%

30 Influence Point

0.5%

165 Influence Point

0.64%

410 Influence Point

Cooldown Reduction
Primary
0.47%

65 Influence Point

0.67%

330 Influence Point

0.83%

820 Influence Point

Critical Chance
Secondary
0.15%

30 Influence Point

0.22%

165 Influence Point

0.28%

410 Influence Point

Critical Damage
Secondary
0.31%

65 Influence Point

0.43%

330 Influence Point

0.56%

820 Influence Point

Energy
Primary
2.2

820 Influence Point

Health
Secondary
1.485

30 Influence Point

2.079

165 Influence Point

2.673

410 Influence Point

Health Regeneration
Secondary
0.15

65 Influence Point

0.21

330 Influence Point

0.27

820 Influence Point

Magic Penetration
Secondary
0.35

30 Influence Point

0.49

165 Influence Point

0.63

410 Influence Point

Magic Resist
Primary
0.74

15 Influence Point

1.04

80 Influence Point

1.34

102 Influence Point

Mana
Primary
6.25

30 Influence Point

8.75

165 Influence Point

11.25

410 Influence Point

Mana Regeneration
Secondary
0.19

30 Influence Point

0.26

165 Influence Point

0.33

410 Influence Point

Scaling Ability Power

(Ability power per level)

Primary
0.0962 per level
(1.7316)

30 Influence Point

0.1346 per level
(2.4228)

165 Influence Point

0.1731 per level
(3.1158)

410 Influence Point

Scaling Attack Damage

(Attack damage per level)

Secondary
0.0225 per level
(0.405)15

Influence Point

0.0315 per level
(0.567)80

Influence Point

0.0405 per level
(0.729)205

Influence Point

Scaling Cooldown Reduction

(Cooldown reduction per level)

Primary
0.05% per level
(0.9%)

30 Influence Point

0.07% per level
(1.26%)

165 Influence Point

0.09% per level
(1.62%)

410 Influence Point

Scaling Energy

(Energy per level)

Primary
0.161 per level
(2.89)

820 Influence Point

Scaling Health

(Health per level)

Secondary
0.3005 per level
(5.409)65

Influence Point

0.4207 per level
(7.5726)330

Influence Point

0.5409 per level
(9.7362)820

Influence Point

Scaling Magic Resist

(Magic resist per level)

Primary
0.0933 per level
(1.6794)

15 Influence Point

0.13 per level
(2.34)

80 Influence Point

0.1667 per level
(3.0006)

205 Influence Point

Scaling Mana

(Mana per level)

Primary
0.787 per level
(14.166)

30 Influence Point

1.1019 per level
(19.8342)

165 Influence Point

1.4167 per level
(25.5006)

410 Influence Point

Scaling Mana Regeneration

(Mana regen per level)

Secondary
0.037 per level
(0.666)15

Influence Point

0.052 per level
(0.936)80

Influence Point

0.0665 per level
(1.197)205

Influence Point
Special Runes
There are some runes that were only available for a limited time:
Glyph of the Special Stocking (Tier 2.5, 0.75% cooldown reduction)