"
 

  

"Naw, it's just like the assault on Glorft. You seen one artillery vanguard in a commando fleet action, you seen 'em all."
—
Glorft is a settlement located south of the Argent Mountains on the coast.
Lore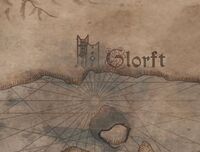 It was made part of Noxus after the Assault on Glorft, led by
Kled. 
Related Champions
lead the Assault on Glorft.
Trivia
Media
References