Fire Emblem Warriors: Three Hopes - The Loop
Play Sound
"Time for a shakedown."

This article or section may require clean-up to meet League of Legends Wiki's quality standards. Reason given: none.

Please help improve the article if you can.
Garena is a digital services company that engages in gaming, eSports, eCommerce and digital finance, primarily focusing on the South East Asian area. It was founded in Singapore in 2009, by current Chairman and Group CEO, Forrest Li. The parent company of Garena is Sea Limited, which also formerly called Garena.[1] Garena currently handles League of Legends publishing for Southeast Asia.
Garena Southeast Asia Region
Garena dedicates servers in: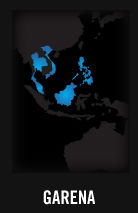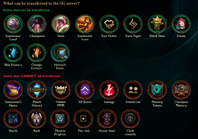 The Philippines
Taiwan, Hong Kong, and Macau
Vietnam
Thailand
Singapore, Malaysia, and Indonesia

This server also hosts for Indonesia. The Indonesian server was shut down on 16th May 2019 12:01 am WIB (GMT +7) in order to merge it with the Singapore and Malaysian servers.[2]
Discontinued Servers:
Each Server has its own teams and headquarters. Currently, Server transfer is not available to these servers.
Garena Platform
Garena Platform (formerly Garena+) acts as the launcher to login, install, download/update, and open the League of Legends client, which cannot be launched independently. The patch release is a little delayed compared to other Riot servers.
There is no Normal Draft Pick in the SEA region.
Garena and Future Riot Games
Garena will not provide future support for new Riot Games in the region. Therefore, Garena accounts cannot be used for other games. [3]
Lucky Crates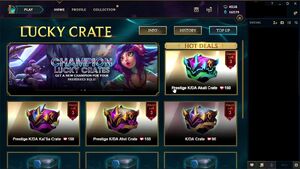 Lucky Crates is a Garena-exclusive system that functions like a lootbox. you can get different rewards like Orange Essence, Blue Essence, Key Fragments, Hextech Chests, Masterwork Chests, Champion permanents or summoner icons. By default, there are 5 Lucky Creates: Champion Top,Champion Jungle, Champion Mid, Champion Bot and Champion Support, which award a random champion permanent according to their respective lane. The Champion crates cost 250 Riot Points. Other types of Lucky Crates may appear during events.
Store and Riot Points
The region has different skin tier price per server due to the differences in average income per region. The available methods to get certain cosmetics may also be changed. Token costs for event items are higher than Riot servers. Some cosmetic items available in Riot servers are locked behind events and paywall while some exclusive contents can be obtained. For example, prestige skins are removed from Hextech Crafting in most Garena servers. Except for the Vietnam and Taiwan servers, all other servers follow the same skin rarity tier guideline of Riot Games with consistent pricing. In Vietnam server, skin price and skin tier are chosen based on the popularity of the champion and the skin line. In Taiwan server, prestige points were recently removed from Hextech crafting and Prestige point skins can only be obtained through lottery events. In addition, Garena servers also have their own loot systems separated from Hextech Crafting. There are regular discount events instead of weekly skin sales. Garena Shell is the currency used to purchase

RP.

More info: Garena Shells to RP Update
RP Conversion per server (by skin tier)

| Tier | Global[4] | PH/SG[5] | TW | VN | TH |
| --- | --- | --- | --- | --- | --- |
| Basic | | | | | |
| Deluxe | | | | | |
| Superior | | | | | |
| Epic | | | | | |
| Legendary | | | | | |
| Ultimate | | | | | |
Special Events
Rampage (2012-2017): an annual 2-day League of Legends event held in the Philippines. It featured different e-sport events such as Celebrity Showmatch, a 5v5 game between various local celebrities in the country, and champion cosplaying. The event ticket was categorized into 3 different classes: Basic, Premium, and Deluxe. Each class had its own exclusive giveaways (skins, jackets, t-shirts, etc.) and perks.

Globe Conquerors Manila (2018-2019): the successor of Rampage. It has established new events including, but not limited to, Cosplay Clash, Runeterra Art Event, Teamfight Tactics showdown, and SEA Invitational. Globe Conquerors Manila is currently on hiatus due to the corona virus pandemic.
Trivia
In January 2020, Garena Philippines dropped the price of Volcanic Wukong from to until January 31, 2020. This was meant to raise awareness for the concerning activity of the Taal Volcano in the Philippines, which began to spew ash and lava fountains earlier that month.[6]
On July 9, 2018 2:16 PM GMT+8, there was an unauthorized modification of the League of Legends PH client lobby where a certain javascript code was inserted. This code performs blockchain mining on affected computers, which consumes CPU resources from these computers. Local players noticed that their client consumes a very high amount of CPU usage and slowdowns on their computers. League of Legends - Philippines Facebook page issued a statement here[7]
See Also
References