Fire Emblem Warriors: Three Hopes - The Loop
Play Sound
"It is just as the spies described."

This article has recently been converted to the new character-focused layout but it needs a lore enthusiast to help fill-out the sections. In addition, 'Relations trivia' and 'Lore trivia' have been moved here but need restructuring into article content - lore is no longer trivia.

If you're eager to help but would like to reference a completed character article: Aurelion Sol, Jinx, Mel, and Viego are excellent.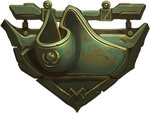 As unpredictable as he is brutal, the dethroned reaver king

Gangplank is feared far and wide. Once, he ruled the port city of

Bilgewater, and while his reign is over, there are those who believe this has only made him more dangerous. Gangplank would see Bilgewater bathed in blood once more before letting someone else take it—and now with pistol, cutlass, and barrels of gunpowder, he is determined to reclaim what he has lost.
"I was cutting throats and sinking Noxian war galleys when you were still pissing your britches, boy. You don't want to take me on."

—

 Gangplank
Read Biography
Background
Early Life
Contemporary history
Recent events
Relations
Read More
Biography
Starring Champion
Trivia
Dead Pool's (Gangplank's now-destroyed ship he took from his father) in the old main cannon.
is the name of the
A tip shown in Legends of Runeterra and his artwork show that he likes to eat oranges dipped in the ocean before hand and calls them "sweet and salty" (he eats them without peeling first).
Change log
References
See also