Frozen Heart
is a
finished item
in
League of Legends
.
[1]
Recipe
Cost Analysis
Gold Value
Gold Efficiency*
114.57%

gold efficient without the aura.
is
Similar Items
Note
items that can reduce attack speed. The attack speed slow of stacks multiplicatively with , and , for a combined 27.75% attack speed slow.
, and its upgrade, and , are the only
Strategy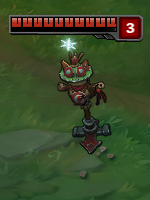 As with other aura items such as , debuff can give away potential ganks.
 tank champions because of the high amount of armor and cooldown reduction but can also be useful for tanky  support champions as both tend on be middle of enemy team during teamfights thus spreading the aura. Examples include , , and .
is an item best suited for
The item also works well with champions that hunger cooldown reduction, have mana problems and make very good use of the passive for extra dueling potential. Examples include , as well as , , and .
attack speed reduction aura, that indirectly reduces damage potential.
is not recommended on , because usually equipped with a and in order to deal damage he needs to be attacked, the more basic attacks he received the more damage output he will have. has an
It might be also good item for manaless champions, should they wish the combination of cooldown reduction, armor, and attack speed reduction in one item. Though it may be better to buy and/or .
is one of the few items to counter champions that work heavily around auto-attacking like  , and ADCs in general.
stacks with in 700 range, effectively doubling damage. Useful on mage supports like or .
Old Icons
Trivia
The attack speed debuff affects champions, minions, and monsters, except for the , , and , as they are immune to  crowd control.
Citrine gem in the popular MMO World of Warcraft. In this game, the gem appears orange.
old icon is the same icon used to represent a
The item's description "Warning: Do not thaw!" is a reference to the item Eye of Skadi from the mod DotA: Allstars, whose description contains exactly the same line.
The was a seasonal item for the 2010 Harrowing celebration. It has the same stats as the , just a different name and picture.

Patch history
Armor increased to 100 from 90.
Armor increased to 100 from 95.
Aura attack speed reduction reduced to 15% from 20%.
New recipe:
+
Armor reduced to 90 from 99.
Mana reduced to 400 from 500.
Cooldown reduction is no longer unique.
High Tier - Armor / Mana item with
25% cooldown reduction.

Unique aura:

25% attack speed reduction.
References
Starter items
Potions and Consumables
Trinkets
Distributed
Basic items
Advanced items
Finished items
Minion and Turret items
Removed items
Community content is available under
CC-BY-SA
unless otherwise noted.