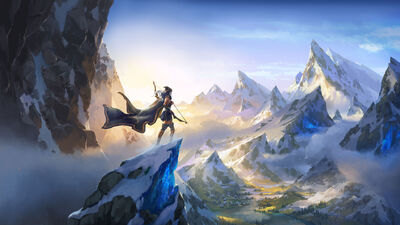 For the lore region, see  Freljord.

 Freljord is a Legends of Runeterra regional card set based on the lore region of

 Freljord.
Freljord is the only region with access to mana generation and is all about spending it efficiently, usually favoring small numbers of powerful units rather than an army of weaker units.
Heavily Featured:
 Frostbite &

 0 Power,

 Enlightened,

 Overwhelm,

 Obliterate,
 Plunder,

 Vulnerable,

 Health,

 Max Mana, Deck Buff, Unit Groups, Surviving Damage.
Description

Frozen Fortitude
In the bitter cold of the frozen north known as the

 Freljord, the wilderness is torn asunder from a savage, three-way civil war. Those who call this place home must find the fire within to persevere through harsh conditions and stand as paragons of fortitude and resilience. Can you weather the path to victory?
List of Cards
Trivia
The Freljord Background image is also used as the loading screen for when you open the mobile version of  Legends of Runeterra.
Media
References
Community content is available under
CC-BY-SA
unless otherwise noted.