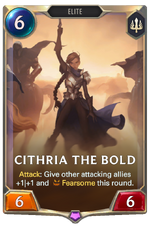 Followers are a type of

unit. They represent characters, and occasionally locations (eg. Wyrding Stones) and objects from the world of

Runeterra at various points in time that are not Champions in

League of Legends in the state represented by the card (eg. Senna, Sentinel of Light and Yone, Windchaser are

Senna, The Absolver and
Yone, The Unforgotten when they were fully human.)
Mechanics
A player can own duplicates of a follower, and unlike champion cards a player can have multiple duplicate follower cards on the board at the same time.
Some follower cards will only appear if a certain champion is on the board or if certain criteria is met.
Deck Limitations
In normal game mode, these cards can be from different regions, or have duplicates. Just like other cards, a player can have at most 3 duplicates of one follower.
Expeditions
List of Followers