Arcane: League of Legends - The Loop
Play Sound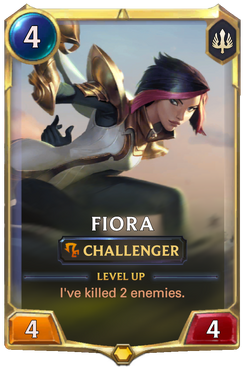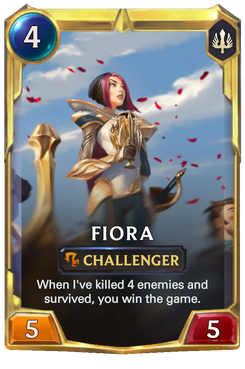 Quotes
Enemy

3Draven present
Allied

5Garen present
Allied

3Katarina present
Enemy

3Katarina present
Allied

2Lucian present
Allied

5Lux present
Enemy
2 Boxtopus present
Allied
10 Cithria, Lady of Clouds present
Enemy
1 Burgeoning Sentinel present
Enemy
3 Laurent Duelist present
Allied

5Garen
Allied

5Lux
Allied
4 Laurent Bladekeeper
Allied
4 Laurent Chevalier
Allied
3 Laurent Duelist
Allied
3 Laurent Protege
Any Allied

Barrier
Allied
8 Judgment
Allied
4 Riposte
Allied
2 Single Combat
Allied
4 Stand Alone
Enemy

6Anivia
Enemy

4Ashe
Enemy

4Braum
Enemy

6Darius
Enemy

3Draven
Enemy

2Elise
Enemy

3Ezreal
Enemy

3Fiora
Enemy

5Garen
Enemy

6Hecarim
Enemy

5Heimerdinger
Enemy

4Jinx
Enemy

3Kalista
Enemy

5Karma
Enemy

3Katarina
Enemy

2Lucian
Enemy

5Lux
Enemy

4Shen
Enemy

1Teemo
Enemy

5Thresh
Enemy

8Tryndamere
Enemy

5Vladimir
Enemy

4Yasuo
Enemy

3Zed
Removed from Combat or Play
Brought back to Combat or Play
Defeat
Victory
Notes
Skins
Level 1
"From arena to tournament, training ground to battleground, I long for a worthy opponent. I will not rest until I know I am the greatest."
Level 2
"... and now I know."
Pool Party Fiora: Common Skin
Prove your worth in a water noodle duel!
Features:
This skin is available for purchase.
Level 1
"Finally, Tryndamere," Fiora started, "You've found a weapon as sharp as your mind."
Level 2
The slap echoed out across the resort, followed by the crash of the Barbarian King's muscled form through the waters. "That's a first," exlcaimed Fiora, as she turned to the others. "Death by water noodle!"
Strategy
With
Against
Trivia
Change Log
Fiora (Level 2)
V2.5

Health reduced to 3 from 4.

V1.0

Undocumented:

Flavor becomes: "... and now I know."

Old Flavor: "From arena to tournament, training ground to battleground, I long for a worthy opponent. I will not rest until I know I am the greatest."

Announce Preview Patch