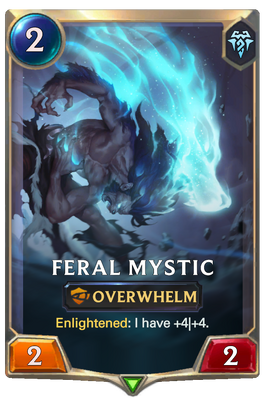 Quotes
 "Voices howl from the mountains!"
 "My body is no longer my own!"
 "Listen to the sounds of the wilds!"
 "Give in to instinct!"
 Feral Mystic snarls.
 "Fear the wild!"
 "Survival through savagery!"
 "Nature does not yield!"
 "Predator or prey?!"
 Feral Mystic snarls.
 Feral Mystic groans.
Trivia
Internally, this card is called Enraptured Mystic.
Community content is available under
CC-BY-SA
unless otherwise noted.