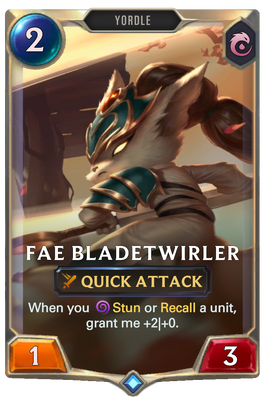 Tutorial Version
Quotes
 "Don't let the fluffy tails fool ya."
 "Think you're fast? Cute."
 "Now who's got the upper hand?"
 "Here's our chance."
 "Underestimate me. I dare you."
 "Hyah!"
 "Try to keep up."
 "Pick on someone your own speed!"
 "Oh it's on."
 "Wanna see these moves up close?"
 "Zigged... should've zagged..."
 Fae Bladetwirler cries out.
Trivia
Though they're most often considered 'cute and fuzzy,' some yordles prefer 'swift and deadly.' The Fae Bladetwirler uses her small size and swift movements to take advantage of any hesitation from her opponents. Her extra-fluffy tail helps balance her for acrobatic swipes.[1]
Media
References
Community content is available under
CC-BY-SA
unless otherwise noted.