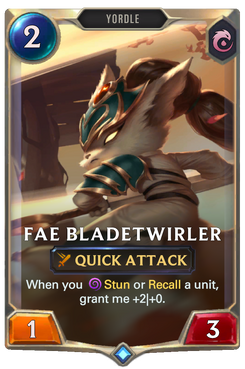 Lore
Though they're most often considered 'cute and fuzzy,' some yordles prefer 'swift and deadly.' The Fae Bladetwirler uses her small size and swift movements to take advantage of any hesitation from her opponents. Her extra-fluffy tail helps balance her for acrobatic swipes.[1]
Quotes
Allied

4Yasuo present
Media
Change Log
References
Community content is available under
CC-BY-SA
unless otherwise noted.