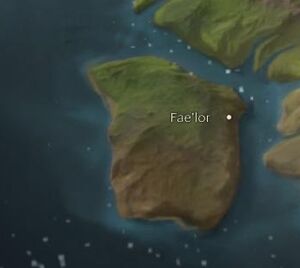 Fae'lor is the western most island on the Ionian Archipelago. It is currently in control of Noxus.
Lore
An island ravaged by war, it has since been stripped bare by Syndra's power, and the fort ripped free of its foundations.
Champions of Fae'lor
Other Related Champions
told Kalan of Fae'lor his possible future fates.
Locations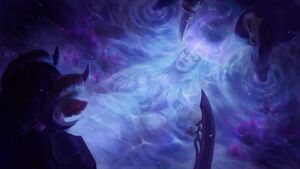 Fae'lor Castle: The fortress of Fae'lor was built upon the westernmost island of Ionia. Highly defensible, this place had remained for centuries, standing against countless foes, before being finally overrun after a long siege during the Noxian invasion. Its famous monastery school was converted into a Noxian fort during the invasion.

Dael'eh Ahira Pool: Dael'eh Ahira, or the Dreaming Pool, a spiritually magical pool that previously imprisoned . Currently it imprisons a vastaya named Kalan.
Media
See Also
References
Community content is available under
CC-BY-SA
unless otherwise noted.