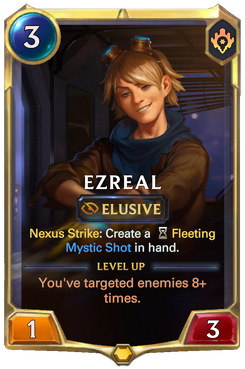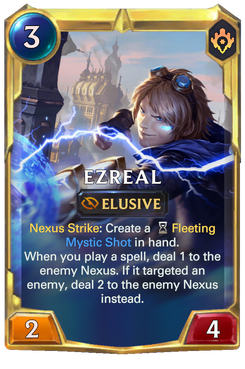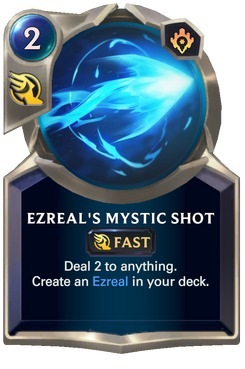 Notes
Ezreal Level 2 with Lifesteal benefits from his damaging effect.
Trivia
Quotes
Allied

5Lux present
Allied

5Heimerdinger present
Allied

4Jinx present
Enemy

4Sivir present
Allied

5Lux
Enemy

5Lux
Enemy

3Ezreal
Enemy

5Garen
Allied

5Heimerdinger
Enemy

3Katarina
Allied

4Taric
Allied
2 Academy Prodigy
Allied
3 Amateur Aeronaut
Allied
1 Astute Academic
Allied
2 Intrepid Mariner
Allied
2 Mystic Shot
Allied
3 Rising Spell Force
Allied
2 Sumpworks Map
Allied
7 Trueshot Barrage
Allied

5

Lux
Turn timer appears
Allied turn timer
Enemy turn timer
Removed from Combat or Play
Brought back to Combat or Play
Victory
Defeat
Skins
Level 1
"Goggles? Check. Scarf? Check. Awesome gauntlet-with-magical-properties-that-I-totally understand? Check, check, aaaand check!"
Level 2
"Impossible is my favorite kind of possible!"
Battle Academia Ezreal: Common Skin
There's nothing cooler than his new ULTIMATE MOVE!
Features:
This skin is available for purchase.
Level 1
"C'mon, Ezreal! You've been talking about your ultimate move for weeks!""
""Yeah, let us see it already!""
""Well, I do hate to keep an audience in suspence. All right, I just finished naming it, so get ready!"
Level 2
"The endless night can be pierced only by the justice in our hearts! Lay bare the truth of our world and embrace an eternal reckoning! CRIMSON COBALT!""
""It's super cool, right? ...right?"
Change Log
Ezreal
V1.14

Level Up becomes: "You've targeted enemies 6+ times."

Old Level Up: "You've targeted enemies 10+ times."

V1.10

Level Up becomes: "You've targeted enemies 10+ times."

Old Level Up: "You've targeted enemies 8+ times."

V1.2

Level Up becomes: "You've targeted enemies 8+ times."

Old Level Up: "You've targeted enemy units 8+ times."

V1.0

Undocumented:

Flavor becomes: "Goggles? Check. Scarf? Check. Awesome gauntlet-with-magical-properties-that-I-totally understand? Check, check, aaaand check!"

Old Flavor: "Impossible is my favorite kind of possible!"

Announce Preview Patch
Ezreal (Level 2)
V1.14

Text becomes: "Nexus Strike: Create a Fleeting

2

 Mystic Shot in hand. When you cast a spell, deal 1 to the enemy Nexus. If it targeted an enemy, deal 2 to the enemy Nexus instead."

V1.0

Undocumented:

Artwork was flipped.

Open Beta Patch
Announce Preview Patch