"You belong in a museum!"

This article or section may contain obsolete information, but exists here for historical purposes.
Ferocity Tree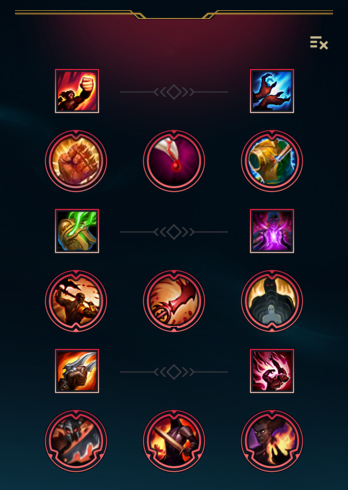 Other Mastery Trees:
Cunning •

Resolve
Expose Weakness
is a tier 2 Ferocity mastery with 1 rank.
[1]
Notes
The damage increase is capped at 3%, even if multiple allies apply the debuff to a target. [2]
Expose Weakness does not amplify your own damage, whether from your own champion or a pet. [3]
Patch History
Removed due to Season 2018.
Added
Tier 2 Ferocity mastery with 1 rank.
Damaging enemy champions causes them to take 3% more damage from your allies.
References

Expose Weakness was a tier 2 Offense mastery with 1 rank.
Effect per Rank
Your damaging abilities debuff enemies for 3 seconds, increasing the damage they take from allied champions by 1%.

In-game tooltip: "Damaging an enemy with a spell increases allied champions' damage to that enemy by 1% for the next 3 seconds."
Requirements
Requires 4 points in Offense.
Application and Synergy
Expose Weakness only increases allied damage (not your own)
Multiple applications from the same champion refresh the duration.
Multiple applications from different champions stack, meaning a full team using Expose Weakness could impart an additional 4% damage on the 5th spell that hits the same target within 3 seconds.
Trivia
Patch History
Community content is available under
CC-BY-SA
unless otherwise noted.