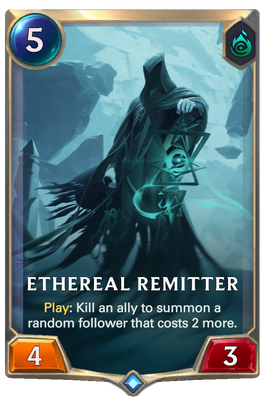 Quotes
 "One life in exchange for another."
 "You could be so much more."
 "Sacrifice for a greater cause."
 "Returned with interest."
 "Don't be afraid!"
 "The mist will have you."
 "Join the fold."
 "I too serve."
 "This one will do."
 "So little to ask."
 "I join them!"
 "A fair trade."
 "Ahh..."
Notes
Keep in mind that, unlike some other games, LoR keeps the reduced prices of units even when they are in play. Hence, if a 4-cost unit is reduced to 3-cost via Progress Day! , Ethereal Remitter killing it will summon a 5-cost follower.
Trivia
Internally, this card is called Soul Gatherer.
Media
Change Log
Community content is available under
CC-BY-SA
unless otherwise noted.