Eternum is a series of alternate future/universe skins in League of Legends. Set in a world where alien machines rule, each champion is an indoctrinated mechanical being.
Lore
"
    "Organic metal is the way of the future. I'm wearing some right now! ...Never chafes."
—
Eternum

In a world overrun by alien machines, this one seems especially intrigued by your presence. Its lithe, metal form slides toward you, begging for your attention. You take one look, and—

Your worst nightmare, embodied in the form of organic metal—it lingers, watching and waiting for the right moment to shroud all of existence in eternal darkness.

Somewhere, beneath the soil, you hear the scraping of metal. Suddenly, there comes a screech… A cry of hunger… Then, nothing.
History
Beyond Space and Time, Eternum Nocturne Watches
By NeeksNaman[1]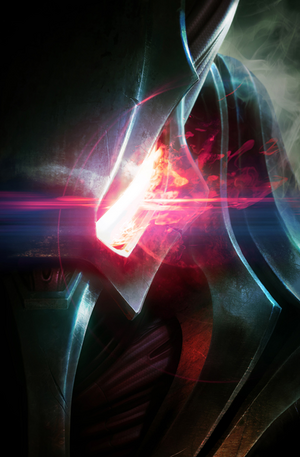 A fearsome shadow is about to fall upon the Fields of Justice as the extraplanar, Legendary

Eternum Nocturne tears through space and time to cull those who do not belong. He lingers yet, waiting and watching, but he'll soon be ready to cast a shroud of

darkness over your battles.
Olaf vs Everything
Welcome to our latest community comics collab, Olaf vs. Everything, in which everyone's favorite Freljordian berserker recklessly hacks, and slashes his way across the known League Universe!
Tom Barton, artist extraordinaire, helps us answer questions you never knew you had, like who would win in a fight, Olaf or Trundle? And can Olaf take down a giant jungle monster? What about Seahunter Aatrox? And because we don't want to tease out all the dimension-hopping action, we're releasing the entire season in one Ragnarok-sized blast![2]
Trivia
This theme was inspired by Mass Effect.
This skin theme shares some visual similarities with the Battlecast skin theme as well as the Darkin.
Media
References