Roblox: DeepWoken - The Loop
Play Sound
"
    "Power to shape the world at my fingertips!"
—

3

Azir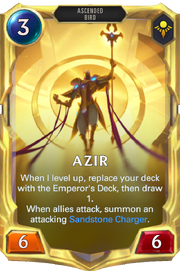 The Emperor's Deck is a special pre-constructed deck in

Legends of Runeterra made up of powerful non-collectable cards. It has 9 different cards, and 15 cards total.
The deck can only be created by by

3Azir upon
Levelling Up to Level 3, functionally removing all of the cards of the allied deck, and replacing it with its own 15 cards, with
10 Ascended's Call always at the bottom.
Decklist
Followers
Landmarks
Spells
Notes
The following are normal interactions that may still be of interest, since all the cards currently in the deck are replaced when Azir Levels Up:

All Traps (eg.

0

 Poison Puffcaps) currently in the deck are removed along with the cards they're attached to, starting the Emperor's Deck with 0 Traps in it.
The Emperor's cards can be Nabbed.

The order cards of the Emperor's Deck is still 𝐏𝐄𝐍𝐃𝐈𝐍𝐆 𝐅𝐎𝐑 𝐓𝐄𝐒𝐓 . They appear to be random, except for

10

 Ascended's Call, which appears to always start at the bottom.
Trivia
See Also
List of cards inside Emperor's Deck