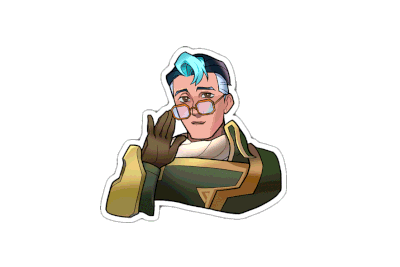 For League of Legends, see Emote. See also: Emoting.
Emotes are cosmetics in the

Legends of Runeterra game which a player can use to communicate. 6 can be equipped at a time in a deck from the Deck tab of the Collection. In-game, they appear as animated stickers that stick to the screen then peel away when used, though if too many are used consecutively there is a cooldown. Emotes can be purchased from the Collection or Store tabs, and owned ones can be viewed in the Collection tab.
List of Emotes
Default Emotes
Default Emotes are given to every player automatically upon account creation.
| Name | Rarity | Price | Description | | Name | Rarity | Price | Description |
| --- | --- | --- | --- | --- | --- | --- | --- | --- |
| Calculating... | | - | Big brain plays. Literally. | | Facepalm | | - | Mistakes were made. |
| Hello There | | - | "Good times, good friends… what could be better?" | | OMG | | - | Now that is what you call crazy. |
| Sad Poro | | - | Why you do this? | | Well Played | | - | "With honor." |
Store Emotes
Store Emotes are permanently available in the store.
Name
Rarity
Price
Description
Name
Rarity
Price
Description
Name
Rarity
Price
Description

Alriiight
"Too easy."

Any Day Now
"Do I look like a patient man?"

Back Away Slowly
"Your reputation will recover… eventually."

Catch You Later
"Let's do this again sometime."

Can't Touch This
"Can't catch me!"

Cheers
"This is going to be good."

C'mon C'mon
"Please please please please please"

Everybody gets love!

Bundle

Our differences make us stronger.

Gotcha
"Bang."

Grateful Dead
"We're just dying to meet you."

Heartbreaker
"Works like a charm."

Fired Up

Bundle

"They can't take the heat."

Hey Hi Hello
"Whatcha doing over there? C'mon, chase me!"

How Dare You
"You say that to my metal face!"

Juicy
"Yep, that tasted purple."

Mind Blow
"What an astounding stratagem."

Muahahaha
"It will be over soon."

Much Obliged
"Excuse my impertinence."

Need A Moment
"Imagine you're on a beach..."

Nice!
"Stay positive."

No Mercy
"The time for talk is over."

None Of That
"Just... no."

Not So Fast
"This story is not yet finished."

Not Sure If
"Judge 'em, Valor."

Obliteration
"Impossible…"

Over It
"You've gotta be kidding me."

Phew
"That was way too close."

Smart
"The right play? It's crystal clear."

Smooth Move
"Pure star fire!"

Sweating
"Wait uh. What are you uh gonna play there."

This Right Here
"Absolutely."

Time To Duel
"I long for a worthy opponent."

Too Funny
"Now THAT'S a zinger."

Try to Keep Up
Almost got me. Almost.

Undying Rage
"AAARRRGH"

Unlucky
"Can I get a do-over?"

Wasn't Me
"Try inventing a better response next time."

Whyyy
"Stars… did you not hear me?"

Yay!
"Blessings from the sun."

Yikes
"Can we pretend that didn't happen?"

You're Next
"Any last words?"
Event Emotes
Event Emotes are earned or purchased during certain events and are generally not available after the event has concluded.
Name
Rarity
Price
Description
Name
Rarity
Price
Description

#1 Fan

Reward

Be your own biggest fan.

All is Fine

Reward

"I will follow this path until the end."

Big Flex
Don't call it a comeback.

Cheeky

Reward

When in doubt, taunt them out.

Don't Mess

Reward

"Call it a flex."

Deflated

Reward

GrrrAAHHH...ah forget it.

Feels Good

Reward

"Exactly as I'd hoped."

Great Match

Reward

"It was an honor!"

Heartbroken

Reward

Oh, what might've been...

Huh?

Reward

What just happened?

How 'Bout That
This changes things.

I Guess

Reward

Pass? Attack? Emote until the timer runs down?

Interesting

Reward

"I love watching a trainwreck."

Into My Trap

Reward

This will be fun... for me.

Jackal Cackle

Reward

Your attempts at victory amuse me.

Just a Dash

Reward

To top off your ascension, add opponent's salt, to taste.

More Fired Up

Reward

There's more where that came from.

Not Amused!
Are you done yet?

Oh, You!

Reward

"You're adorable when you're angry."

Piece of Cake
Justice is oh so sweet.

Poro Pride
Happiness comes from knowing you're perfect just the way you are.

Pure Magic

Reward

A good reputation is nothing short of magic.

Selfies

Reward

An emote's worth a thousand pictures.

Seeing Red
"None shall oppose me!"

Sharp & Sweet
Cone on, it's a party!

Sorry, Not Sorry

Reward

Oh sweetie. You never had a chance.

Sparky Sparky Von Yipp

Reward

Don't chase the laser. BE the laser.

Swoon

Reward

Aren't you just the cutest?

Wait, What?
Seriously... what?

Watch This

Reward

Can't kill this vibe.

Who, Me?

Reward

"If you say so~"

Wink

Reward

Substance and style.

Wowza!

Reward

"What do you mean the hero isn't here?!"

XOXO

Reward

Charmed, I'm sure.

You Jelly?

Bundle Exclusive

Sorry we can't both be me!
Trivia
Internally, emotes have different names:
Alriiight Emote is called Hell Yeah
Any Day Now Emote is called Bored.
Back Away Slowly Emote is called Hiding.
Big Flex Emote is called Urf Flex.
Calculating... Emote is called Math.
Can't Touch This Emote is called Not Even Close.
C'mon C'mon Emote is called Top Deck.
Deflated Emote is called Rage.
Facepalm Emote is called Mistake.
Gotcha Emote is called Confident.
Hello There Emote is called Greeting.
Jackal Cackle Emote is called Laughing.
Just a Dash Emote is called Sand Bae.
Juicy Emote is called Tastes Purple.
Muahahaha Emote is called Laughing.
Nice! Emote is called Praise.
Not So Fast Emote is called Reversal.
Not Sure If Emote is called Skeptical.
Obliteration Emote is called Nooooo.
OMG Emote is called Surprise.
Over It Emote is called Ugh.
Pure Magic Emote is just called Magic.
Sad Poro Emote is just called Sad.
Smart Emote is just called PogChamp.
Time To Duel Emote is called Bring It.
Try to Keep Up Emote is called Deflect.
Undying Rage Emote is just called Rage.
Well Played Emote is just called Respect.
Yikes Emote is called Oops.
You're Next Emote is just called Taunt.
Poro Yawn emote is an unreleased emote found in the game files.
In Juicy, Lulu drinks from a

3

 Tasty Faefolk.
Several emotes have alternate versions due to various local content restrictions.
Several emotes are references to popular internet memes:
Media
Patch History