For Legends of Runeterra, see Emote (Legends of Runeterra). See also: Emoting.
Emotes are expressive images primarily used in

League of Legends and

Teamfight Tactics as cosmetic flares. They typically present Champions and Little Legends with various expressions. This page also contains various official emotes created for social media sites.
Usage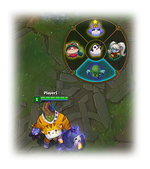 Emotes can be purchased in the store for

350 a piece. During the initial launch, all Emotes were put on sale for

350 (where they originally had a cost of

450). Since patch V8.12 the price of emotes have been lowered from the initially

450 to

350 permanently. A Thumbs Up Emote is freely unlocked to all accounts.
Emotes can be equipped in the player's Collection or from Champion Select. The loadout includes a radial that can hold up to five emotes, as well as slots for Start Game, First Blood, Ace and Win.
Once in-game, you can access the pop-up radial using the assigned hotkey (default: [T]). The Start Game and End Game emotes will trigger automatically.[1] Players can only trigger a certain number of Emotes, including Champion Mastery Emotes, within a short space of time before having to wait to use another. Champion Mastery is still triggered using its own hotkey.
You can mute Enemy Emotes individually from the Scoreboard, or disable them entirely from Settings.
Emotes
Available
These emotes are available in The Store for

350.
Leveling Emotes
These emotes are given to players reaching certain summoner levels.
Ranked Emotes
These emotes are split rewards during the Ranked Season. You unlock an emote when you reach 500 Split Points. The emote is dynamic and will change dependending on your placings.
Twitch Prime
These emotes are only obtainable from the Twitch Prime Capsules. Each capsule gives the user an exclusive emote.
Legacy Emotes
These emotes are not available in the store, however can drop via Hextech Crafting, Honor Capsules or Hextech Mystery Emote.
These emotes are only available during and via the Essence Emporium.
General
Mission
Event Pass
These Emotes were given via Milestone in their corresponding Event Pass.
TFT Pass
These Emotes could be obtained via their corresponding TFT Pass. Some were obtainable without purchasing the full TFT pass, while others required it beforhand.
Crafting
eSport Viewing Reward
Rewards
eSport