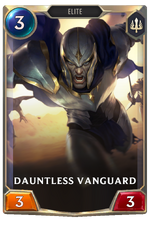 Elite is a group unique to a set of

Demacian cards based on the military elite of

Demacia.
Strategy
Elite cards do not share a common keyword.
They make up strong midrange decks, with buffs like

2

 Battlesmith,

4

 Bannerman,

6

 For Demacia! and

6

 Cithria the Bold.
Elite decks often tend to be Mono- Demacia due to the Allegiance Effect of

4

 Vanguard Bannerman.
Empires of the Ascended added a new Elite archetype centered around

6

Jarvan IV, based on units without Challenger, getting bonuses for Challenging, through being made to Challenge with specific Spells, being given/granted Challenger, or, through synergy with other regions, using Vulnerable.
Trivia
1

 Cithria of Cloudfield is not yet a member of the Dauntless Vanguard, but still marked as an Elite. She appears to fit a common archetype of 1 mana +2|+2 followers, with a small bonus - hers, being the Elite tag.
Other than Cithria of Cloudfield,

3

 Greenfang Warden was the first Elite unit that was not a part of the Dauntless Vanguard. He is assigned to the rangers under the command of

5

Quinn.
See Also
List of Elite cards
List of cards generating Elite cards