Fire Emblem Warriors: Three Hopes - The Loop
Play Sound
"It is just as the spies described."

This article has recently been converted to the new character-focused layout but it needs a lore enthusiast to help fill-out the sections. In addition, 'Relations trivia' and 'Lore trivia' have been moved here but need restructuring into article content - lore is no longer trivia.

If you're eager to help but would like to reference a completed character article: Aurelion Sol, Jinx, Mel, and Viego are excellent.
A prodigy from the rough streets of Zaun,

Ekko manipulates

time to twist any situation to his advantage. Using his own invention, the

Z-Drive, he explores the branching possibilities of reality to craft the perfect moment. Though he revels in this freedom, when there's a threat to his friends, he'll do anything to defend them. To outsiders, Ekko seems to achieve the impossible the first time, every time.
"My devices work best when they don't work as intended… which is most of the time."

—

 Ekko
Read Biography
Background
Early Life
Contemporary History
Recent events
(TBA)
Appearance
(TBA)
Personality
(TBA)
Abilities
(TBA)
Relations
Ekko's parents work overtime in one of Zaun's many factories, so they're rarely home.[1]
The graffiti Ekko often visits has paintings of girls with blue (

Ekko knew them when he was younger.
Ekko and
were childhood friends and often played together. He had a crush on her before she started talking to and .

) and pink ( ) hair.
Ekko dislikes Pilties like , , and , as he sees them as arrogant and self-important, as well as to promote Zaunite nationalism.

He is convinced Piltover is not the only progressive city in Valoran and is proud to be Zaunite.
To him, [4]
and are the opposite extremes of the same decadent spectrum, and hopes he doesn't turn out like either of them.

Ekko also dislikes Zaunites like , , and , as they embody everything that is wrong with the city.

Ekko once saved his friend from
by rewinding time; however, Mundo remains aware of the changed timeline.
He had a pet rat named Mr. Tails.
reminds him of Mr. Tails and thinks it might be him.
Ekko appreciates [5]
for what he has done for Zaun. Ekko remarks that he would poke at Zac to learn about the composition of his chemical body.
He likes [6].
for unknown reasons and fights alongside him in The Climb

The only Yordle Ekko has met is . The two of them shared stories with each other while Heimerdinger visited Ekko's hideout in Zaun. He hasn't meant any other Yordles (at least not without glamour) and has only heard tales of them.[7]

If he were to meet [8]
, he would respect him for his ingenuity in building a mechanized suit out of junk.
He respects [9]
as an inventor despite him residing in and working for Piltover.
Ekko and his friends have been shown to attend
performance. They are likely her fans despite her strong ties to Piltover.
Read More
Biography
Starring Champion
Trivia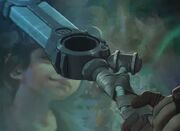 His canon appearances in chronological order: Enemy, Arcane, True Genius, Lullaby, Chronobreak, Seconds, The Unexpected Spark.
During his release, it was stated that Ekko was a 16-17-year-old teenager.

Like [11]
and , 'Ekko' is not his actual name but rather what his friends call him.

Ekko is basically a gifted, unrefined genius that tends to take on more than he can initially handle. He managed to create the [12]
and the simply through trial and error, and as a result splits the timeline to fuel his perfectionism
Ekko mainly uses the Z-Drive to undo his mistakes and find key points to exploit, such as taking down a Vigilnaut (the techmaturgically augmented goon he fought in Seconds).[13]
Despite being able to undo physical effects on his body, Ekko retains some residual effects over the rewind, including physical pain and mental fatigue. His cognitive age does not change over the course of rewinding.[14][15]
Ekko's facepaint and [16]

He displays the same Zaunite street fashion and do (with Ekko's neckpiece being identical to the hextech bolts on her gauntlets)

are both shaped after an hourglass, an expression of his personality as well as the symbol he adopted for himself.
Ekko's 'bat' is a clock second-hand he stole from a Piltover clocktower (as evidenced by the Roman 'XII' at its base)[17]
Ekko believes in and cares for Zaun and its future despite not fully understanding the bigger picture.
As evidenced by his joke, the

It being the product of makeshift hextech powered by a shattered crystal of undocumented properties might have something to do with it.

The shattered crystal is implied to be part of the one that
and fought over in their biographies.
And that also implies the current
isn't the first of many broken before.

sometimes functions unexpectedly.
The

Ekko had at first another function for it in mind (likely a smoke/flash grenade) but several successive malfunctions prompted its current incarnation.

is powered by the .
Using the

While in-game, an afterimage can be seen throwing his The Climb and Ekko's Arrival the device thrown is shown to be an unique one also shaped like a hourglass.

This device temporarly stops the flow of time in an area
.

to activate , in
In the non-canon The Path of Champions Adventure, one of Ekko's afterimage named Ozzi starts acting on its own and desires to not be reset and remain as an individual. It's unknown if afterimages from  Runeterra Prime are also capable of this.

, Ekko is able to create afterimages of himself.
Change log
Character blurb
5 Nov 2019 (During V9.22)
Added.
References
See also