Roblox: DeepWoken - The Loop
Play Sound
Lore
Twice did dragonfire consume the world. Twice from the embers were heroes.
Dragon Trainers

Dragon training, to the few who understand it, seems to be the sole domain of yordles. Heimerdinger has long believed that dragons and humankind can peacefully coexist, citing centuries of his own successful research. His current dragon hatchling, Pythagoras, holds no opinion on the subject.


As the dragonslayers fought a bitter war with their nemeses, Tristana was busy with a draconic matter of her own. Deep in the wooded forests, away from the battles, she busily trained a young dragon—a trying task rewarded with lifelong friendship.


Dragons, though feared, are still living things and can be befriended under the right circumstances. Lulu enthralled her small friend with whimsical magic... becoming the first ever dragon trainer.
History
Dragon Trainer's Field Guide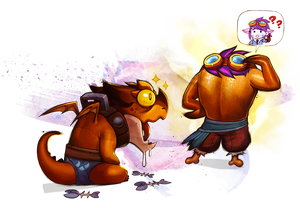 TIP #123
Who didn't feed the dragon?
An unhappy dragon is a hungry dragon. Feed your dragon regularly to avoid
symptoms such as hunger, hanger, and a
sudden urge to eat.. well, you.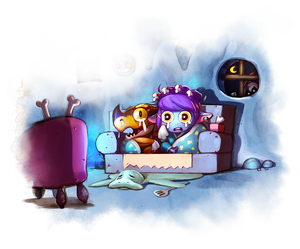 TIP #233
Your dragon's den
It's a common misconception that dragons
like to live in caves filled with gold. They
actually like to be out doors most of the
time, unless it's raining or there's a really
good movie on the television.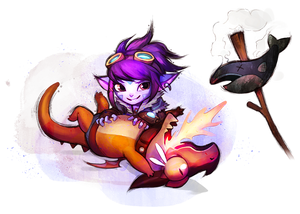 TIP #234
Your dragon's belly and you
Out in the wild and can't start a fire? Just
tickle your dragon's belly for a usually non-
lethal firestarter!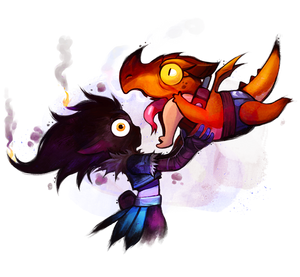 TIP #357
Face check
Do not point your dragon at or around your
face. Refusing to follow these rules will
probably almost 100% result in total body
death.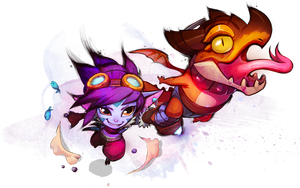 Rocket Jump
Time to Fly
Your dragon will fire a high-impact flame
blast into the ground, sending you soaring
away from - or towards (good luck) -
enemies armed with very sharp, very
dangerous pokey things. For smooth
sailing, stow all Infinity Edges before
takeoff.
Trivia
The Trainer theme may have been inspired by the "How to Train Your Dragon" franchise.
Each champion in this skin series has a main dragon.

has Pix as a small dragon. In addition, she can polymorph enemies into dragons.
's dragon companion is named Riggle.
's main dragon, Pythagoras, sits on his head. He has other dragons too. The little guys are named Turret Jr. And the big dragons are named Bitey.

Pythagoras species seems to be the dragon queen, known with many names: "Queen of the monsters", "Queen under the mountain".

Pythagoras wants to reclaim her titles. However, Heimerdinger thinks they are excessive.
Media
References