Fire Emblem Warriors: Three Hopes - The Loop
Play Sound
"You belong in a museum!"

This article or section may contain obsolete information, but exists here for historical purposes.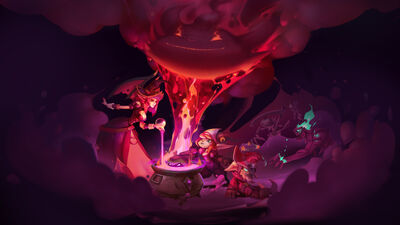 The Doom Bots of Doom, also known as Nightmare mode, is a Featured Game Mode for League of Legends. The first featured mode to utilize bots, this is Co-op vs. AI with a twist: each bot has mutated, granting them empowered abilities. On higher difficulties, Doom Bots will mutate further over the course of the game - picking up the abilities of other champions, alongside their own.
Gameplay
Trivia
Bots will
as a team of 5 to kill periodically (including corpses of dead bots). They have not been observed to attempt to kill
flee from .
was nerfed the day after the game mode's release removing
It is possible to be invited to difficulties that you have not unlocked.
actively /laughs at his enemies, which he will do after dodging skills or just randomly in the hopes to bait you.
In Doom Bots 2016, 
 was unable to be played in live release because his abilities exploited the Bots' tendency to group, making him able to win with even at difficulty 100 at The Gauntlet, which turned out to be very unbalanced. However,   can be seen in this gamemode, but only as a Doom Bot.
Announcement
"
Get ready - it's almost time for the next Featured Game Mode!

You thought Brazil's Veigar Bot was challenging? Think again! We've souped up the bots to DOOM levels, giving them mind-melting abilities that'll blow you away. Thought Amumu was already emo enough? What if Amumu's Doom Bot is so sad he makes all his nearby allies units CRY WITH DESPAIR, too? What if Ziggs's Mega Inferno Bomb broke off into six MINI INFERNO BOMBS after landing, or if Lux's Final Spark burst out in ALL directions around her? Each of the Doom Bots have had their abilities tinkered with, and things most definitely get crazy when they get aggressive.

Fight the Doom Bots and you'll unlock harder difficulties. Bots with 2 Bombs respawn with Bonus Doom effects such as Anivia's passive or Swain's ultimate, while 5 Bomb Doom Bots carry TWO Bonus Doom effects and provide the most extreme challenge in this brain-bursting Featured Game Mode!

The Doom Bots of Doom will be cavorting around the Fields of Justice from July 17 to July 27, and you'll unlock a Doomtastic summoner icon if you challenge them at least once!

— L4T3NCY
Media
See Also
References