Demonic Embrace is a legendary item in

League of Legends.
Recipe
Cost Analysis
Gold Value
1-Champion Azakana Gaze Gold Value
5-Champion Azakana Gaze Gold Value
Gold Efficiency*
81.86%

gold efficient.
base stats are

94.53%

gold efficient while affecting one champion, and

107.19%

gold efficient while affecting five champions.
is
Similar items
Notes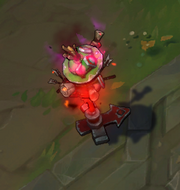 Old icons
Trivia

Patch History
Updated icon.
Damage per second reduced to 1.2% maximum health from

1.5%

.
V10.23 - Added
Stats:

70 ability power, 350 health.

Unique Passive - Azakana Gaze:

Dealing ability damage to enemies causes them to take 1.5% of their maximum health as

magic damage

every second for 4 seconds. Gain 10 bonus armor and 10 bonus magic resistance while enemies are afflicted, both increased by 2.5 for each additional champion affected.
Limited to 1 Demonic Embrace.
References
Starter items
Pots and Consumables
Trinkets
Distributed items
Boots
Basic items
Epic items
Legendary items
Mythic items
Ornn's Mythic item upgrades
Champion exclusive items
Minion and Turret items
Removed items
Community content is available under
CC-BY-SA
unless otherwise noted.