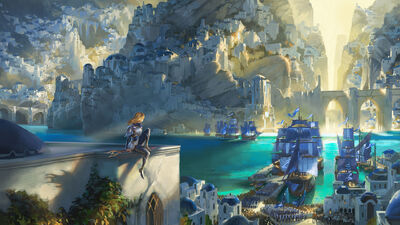 For the lore region, see Demacia.

Demacia is a Legends of Runeterra regional card set based on the lore region of
Demacia.
Demacia puts an emphasis on filling on the board with low-cost units and gradually buffing them into formidable combatants. Demacia's weakness is a lack of damaging spells - relying almost exclusively on combat to clear the board.
Main Mechanics:

Attack,

Challenger,

Tough,

Rally,

Barrier,

Scout,

Strike
Lesser Mechanics:

Capture,

Death,
Silence, Unit Groups
Description

Stand Together
Justice. Honor. Duty. Proud Demacia sits on the northwestern edge of Runeterra. Once a safe haven from a brutal war,
Demacia is now caught between the shifting tides of time. Can this mighty kingdom evolve to further serve its people, or do they face obsoletion along the march of progress? Stand on the side of justice!
List of Cards
Trivia
Media
References
Community content is available under
CC-BY-SA
unless otherwise noted.