(12 intermediate revisions by one other user not shown)
Line 1:
Line 1:
 

[[File:Repertoir.png|thumb|David 'Repertoir' Capurro]]

 

[[File:Repertoir.png|thumb|David 'Repertoir' Capurro]]

 
⚫
 
 
 
+

{{clr}}

⚫
 
−
 
 

==Contributions==

 

==Contributions==

 

;Champion Rework

 

;Champion Rework

Line 8:
Line 8:
 

*{{ci|Cassiopeia|Cassiopeia, the Serpent's Embrace}}<ref>[https://boards.na.leagueoflegends.com/en/c/developer-corner/n7lt68uM-mid-year-mage-updates-cassiopeia-direction MYMU - Cassiopeia Direction]</ref>

 

*{{ci|Cassiopeia|Cassiopeia, the Serpent's Embrace}}<ref>[https://boards.na.leagueoflegends.com/en/c/developer-corner/n7lt68uM-mid-year-mage-updates-cassiopeia-direction MYMU - Cassiopeia Direction]</ref>

 

*{{ci|Garen|Garen, the Might of Demacia}}<ref>[https://boards.pbe.leagueoflegends.com/en/c/champions-gameplay-feedback/Y7ELMJAK-garen-pbe-changelist-and-feedback-thread Garen Feedback Thread]</ref>

 

*{{ci|Garen|Garen, the Might of Demacia}}<ref>[https://boards.pbe.leagueoflegends.com/en/c/champions-gameplay-feedback/Y7ELMJAK-garen-pbe-changelist-and-feedback-thread Garen Feedback Thread]</ref>

 
+

*{{ci|Janna|Janna, the Storm's Fury}}<ref>[https://twitter.com/RiotRepertoir/status/908081582484865024 Repertoir on Janna]</ref>

−

*{{ci|Kog'Maw|Kog'Maw, the Mouth of the Abyss}} (partially reverted)<ref>[https://boards.pbe.leagueoflegends.com/en/c/champions-gameplay-feedback/2q0vLyo8-kogmaw-pbe-feedback-thread?show=rundown Kog'Maw Feedback Thread]</ref>

+

*{{ci|Kog'Maw|Kog'Maw, the Mouth of the Abyss}}<ref>[https://boards.pbe.leagueoflegends.com/en/c/champions-gameplay-feedback/2q0vLyo8-kogmaw-pbe-feedback-thread?show=rundown Kog'Maw Feedback Thread]</ref>

 

*{{ci|Malzahar|Malzahar, the Prophet of the Void}}<ref>[https://boards.na.leagueoflegends.com/en/c/developer-corner/6c2r0VAc-mid-year-mage-updates-malzahar-direction MYMU - Malzahar]</ref>

 

*{{ci|Malzahar|Malzahar, the Prophet of the Void}}<ref>[https://boards.na.leagueoflegends.com/en/c/developer-corner/6c2r0VAc-mid-year-mage-updates-malzahar-direction MYMU - Malzahar]</ref>

 

*{{ci|Nidalee|Nidalee, the Bestial Huntress}}<ref>[https://boards.na.leagueoflegends.com/en/c/champions-skins/bJ78j8nt-upcoming-nidalee-gameplay-update Upcoming Nidalee Gameplay Update]</ref><ref>[https://boards.pbe.leagueoflegends.com/en/c/champions-gameplay-feedback/rr5Noh3H-nidalee-gameplay-update-feedbackbugs-thread Nidalee Gameplay Update Feedback/Bugs Thread!]</ref><ref>[https://boards.pbe.leagueoflegends.com/en/c/champions-gameplay-feedback/olJlok4U-nidalee-pbe-changes-for-911 Nidalee PBE changes for 9/11]</ref>

 

*{{ci|Nidalee|Nidalee, the Bestial Huntress}}<ref>[https://boards.na.leagueoflegends.com/en/c/champions-skins/bJ78j8nt-upcoming-nidalee-gameplay-update Upcoming Nidalee Gameplay Update]</ref><ref>[https://boards.pbe.leagueoflegends.com/en/c/champions-gameplay-feedback/rr5Noh3H-nidalee-gameplay-update-feedbackbugs-thread Nidalee Gameplay Update Feedback/Bugs Thread!]</ref><ref>[https://boards.pbe.leagueoflegends.com/en/c/champions-gameplay-feedback/olJlok4U-nidalee-pbe-changes-for-911 Nidalee PBE changes for 9/11]</ref>

 

*{{ci|Quinn|Quinn, Demacia's Wings}}<ref>[https://boards.pbe.leagueoflegends.com/en/c/champions-gameplay-feedback/PE1LJTOM-quinn-pbe-feedback-thread Quinn Feedback Thread]</ref>

 

*{{ci|Quinn|Quinn, Demacia's Wings}}<ref>[https://boards.pbe.leagueoflegends.com/en/c/champions-gameplay-feedback/PE1LJTOM-quinn-pbe-feedback-thread Quinn Feedback Thread]</ref>

 
+

*{{ci|Rammus|Rammus, the Armordrillo}}<ref>[https://twitter.com/RiotRepertoir/status/859516947955818496 Repertoir on Rammus]</ref>

−

*{{ci|Rengar|Rengar, the Pridestalker}} (partially reverted)<ref>[https://boards.na.leagueoflegends.com/en/c/developer-corner/hYn5EO3E-assassin-roster-update-rengar-direction Assassin Roster Update - Rengar Direction]</ref>

+

*{{ci|Rengar|Rengar, the Pridestalker}}<ref>[https://boards.na.leagueoflegends.com/en/c/developer-corner/hYn5EO3E-assassin-roster-update-rengar-direction Assassin Roster Update - Rengar Direction]</ref>

 

*{{ci|Ryze|variant=old2|link=Ryze/History|Ryze, the Rogue Mage}}<ref>[https://boards.pbe.leagueoflegends.com/en/c/champions-gameplay-feedback/j7ouztM8-ryze-update-gameplay-discussion Ryze Update Gameplay Discussion]</ref>

 

*{{ci|Ryze|variant=old2|link=Ryze/History|Ryze, the Rogue Mage}}<ref>[https://boards.pbe.leagueoflegends.com/en/c/champions-gameplay-feedback/j7ouztM8-ryze-update-gameplay-discussion Ryze Update Gameplay Discussion]</ref>

−

*{{ci|Ryze|Ryze, the Rune Mage}}<ref>[https://boards.pbe.leagueoflegends.com/en/c/champions-gameplay-feedback/q6YMpE4v-ryze-champion-update-feedback-and-discussion Ryze Champion Update Feedback and Discussion]</ref>

+

*{{ci|Ryze|Ryze, the Rune Mage}}<ref>[https://boards.pbe.leagueoflegends.com/en/c/champions-gameplay-feedback/q6YMpE4v-ryze-champion-update-feedback-and-discussion Ryze Champion Update Feedback and Discussion]</ref>

 

*{{ci|Skarner|Skarner, the Crystal Vanguard}}<ref>[https://boards.pbe.leagueoflegends.com/en/c/champions-gameplay-feedback/d2bmpMif-skarner-pbe-changelist-and-feedback-thread Skarner Feedback Thread]</ref>

 

*{{ci|Skarner|Skarner, the Crystal Vanguard}}<ref>[https://boards.pbe.leagueoflegends.com/en/c/champions-gameplay-feedback/d2bmpMif-skarner-pbe-changelist-and-feedback-thread Skarner Feedback Thread]</ref>

 

*{{ci|Taric|Taric, the Shield of Valoran}}

 

*{{ci|Taric|Taric, the Shield of Valoran}}

Line 20:
Line 22:
 
 
 

==Links==

 

==Links==

−

[https://twitter.com/RiotRepertoir Twitter]

+

[https://twitter.com/RiotRepertoir Twitter]

⚫
 
−

{{Reflist}}

 
 
 
 
⚫
 
 
 

{{staff}}

 

{{staff}}
---
Revision as of 02:17, 8 November 2019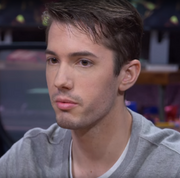 David 'Repertoir' Capurro is the Lead Champion Designer at Riot Games Inc. He was previously the Lead Designer on the Summoner's Rift team.
Contributions
Champion Rework
Links
References
Leadership
Corporate
Production
Producer

Carl 'Status Kwoh' Kwoh
Mark Franz
Steven Snow

Assistant Producer

Aaron 'Lindorn' Smith
Ryan 'RyanLaughlin' Laughlin
'TheGreatHembini'

Associate Producer

'Gifted Wolf'
Karen 'KarrieBear' Wnuk
'Stallion'

Miscellaneous Producer

Jason 'FastLoris' Lenny
'MrCrumb'

Operations

Chris Ward
Chris Collier
Nathan Ben-Attar

Engineering

Andrew Woo
Barry Livingston
Christopher McArthur
Cyriaque Kouadio
David Banks
David Eilering
George 'Fruitstrike' Skleres
Jianfei Liao
Joel Anderson
Jonathan McCaffrey
Kevin Borer
Kirk Black
Luke 'Rabid Llama' Rinard
Michael Root
Mike Matsumura
Ray Perez
Scott Delap
Scott Gelb
VerrDon Mason
Vic Keenan

Art
Narrative

Joe 'ManWolfAxeBoss' Lansford

Design
Game Design

Andy 'fantasyworld' Ho
David 'Repertoir' Capurro

Technical Design
Community

Quentin Chappet
Radosław Pasternicki

Quality Assurance
Customer Service
User Interface
Marketing

Andy 'fantasyworld' Ho
Chris Enock
Chris Heintz
Jeffrey Pfingsten
Laura 'Moneypenny' Brown
Kevin Cheung

Business Development
List of people without article
Community content is available under
CC-BY-SA
unless otherwise noted.