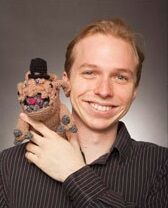 Colt 'Ezreal' Hallam is currently working for Riot Games Inc. as a Lead Game Designer for an R&D project. He was one of the designers for the Crystal Scar, primarily focusing on adding features such as runes, summoner spells and items for the new game type. He made sure all the capture points were different.[1]
Profile
Colt hails from San Diego, California, where he grew up playing every competitive game possible. Over time, Colt's gaming tastes shifted from tabletop strategy games like Warhammer 40k to online competitive games like Starcraft. As a diehard DotA-Allstars fanatic, he has been playing Defense of the Ancients since its humble Starcraft beginnings in the Aeon of Strife map. Prior to coming to Riot, Colt graduated from the Claremont Colleges where he studied Psychology and Organizational Economics, all the while working on passion projects in game design including mods of Half-Life and Neverwinter Nights, or joining a pickup game of Ultimate Frisbee.
Contributions
Champion Design
Gamemodes
Trivia
The champion
is named after him. 
See Also
Links
References
Leadership
Corporate
Production
Producer

Carl 'Status Kwoh' Kwoh
Mark Franz
Steven Snow

Assistant Producer

Aaron 'Lindorn' Smith
Ryan 'RyanLaughlin' Laughlin
'TheGreatHembini'

Associate Producer

'Gifted Wolf'
Karen 'KarrieBear' Wnuk
'Stallion'

Miscellaneous Producer

Jason 'FastLoris' Lenny
'MrCrumb'

Operations

Chris Ward
Chris Collier
Nathan Ben-Attar

Engineering

Andrew Woo
Barry Livingston
Christopher McArthur
Cyriaque Kouadio
David Banks
David Eilering
George 'Fruitstrike' Skleres
Jianfei Liao
Joel Anderson
Jonathan McCaffrey
Kevin Borer
Kirk Black
Luke 'Rabid Llama' Rinard
Michael Root
Mike Matsumura
Ray Perez
Scott Delap
Scott Gelb
VerrDon Mason
Vic Keenan

Art
Narrative

Joe 'ManWolfAxeBoss' Lansford

Design
Game Design

Andy 'fantasyworld' Ho
Colt 'Ezreal' Hallam

Technical Design
Community

Quentin Chappet
Radosław Pasternicki

Quality Assurance
Customer Service
User Interface
Marketing

Andy 'fantasyworld' Ho
Chris Enock
Chris Heintz
Jeffrey Pfingsten
Laura 'Moneypenny' Brown
Kevin Cheung

Business Development
List of people without article
Community content is available under
CC-BY-SA
unless otherwise noted.