For more information on the character and their appearances, see Cithria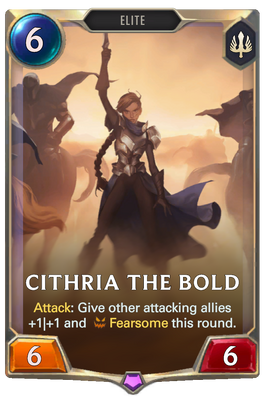 Quotes
 "Soldiers, to me!"
 "Been a long path to get here."
 "Show them what we're made of."
Allied Garen present
 "Lead our charge."

 "Demacia! Now and forever."
Cithria the Bold:

Garen:
Allied Tianna Crownguard present
 "Lady Crownguard, it's an honour."

 "The honour is mine, Cithria."
Tianna Crownguard:

Cithria the Bold:
 "Nothing stands in our way."
 "Don't hold back!"
 "Follow my lead!"
 "Ride on!"
 "Stand for what's right!"
 "Fall by my sword!"
 "A life... well lived."
 "I've come so far..."
 "For... Demacia."
 Cithria grunts.
Trivia
Change Log
Community content is available under
CC-BY-SA
unless otherwise noted.