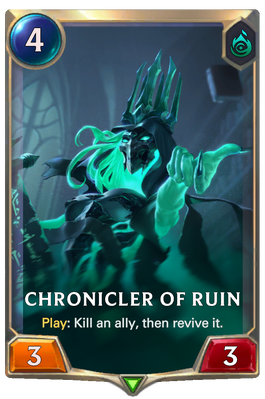 Quotes
 "So many years, so much misery!"
 "There was hope... once."
 "No place for the kind anymore."
 "I remember who you were."
 "You weren't always this way."
 "Who disturbs me?!"
 "History of anguish!"
 "You'll be forgotten!"
 "Begone!"
 "My work...!"
 Chronicler of Ruin gasps.
Notes
Chronicler of Ruin only works if his target did indeed die. Therefore, if you target a unit with Unyielding Spirit, or a Level 1 Tryndamere, nothing will happen (Tryndamere would Level Up, but not revived as he doesn't count as dying).
Trivia
Although not a  Skill, this card's effect has the internal name Cycle of Death.
Community content is available under
CC-BY-SA
unless otherwise noted.