Abilities
Notes
The animation is visible in brush and in fog of war.
Cleansing the airborne will not prevent the slow.

The slow itself can also not be blocked by spell shield, but will always be prevented if the airborne was.

The area will still rupture even if Cho'Gath dies during the delay.
Notes
Feral Scream will cast from wherever Cho'Gath is at the end of the cast time.
Notes
Cho'Gath's size factors into the wideness of the hitbox Vorpal Spikes has. External size modifiers ( ) contribute to this.
When attacking enemies right on top of Cho'Gath, the missile may fire in the opposite direction.
Notes
The increased size stacks additively with other size increases.
The maximum number of Feast stacks is 255, granting 20400 / 30600 / 40800 bonus health.
The bonus attack range and increase size cap at respectively 16.25 / 12.19 / 9.75 and 16.67 / 12.5 / 10 stacks, with the last stack being effective as the decimal part of the value (no decimal meaning 100% as effective).
Each stack of Feast increases the damage by 8 / 12 / 16.
If an enemy champion has health below the amount of

true damage

Feast deals, they will be marked for execution. This indicator does not consider shields or invulnerability.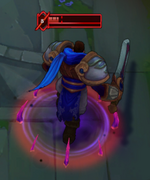 References
Upcoming Champions
Cancelled Champions
Community content is available under
CC-BY-SA
unless otherwise noted.