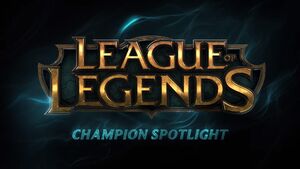 Champion Spotlights are a series of videos created by Riot Games Inc. Web Content Specialist David 'Phreak' Turley. It began as a short series of videos by Phreak in which he discusses and demonstrates skills, tactics, and strategies of a certain champion. The videos were well received by the community, and many players asked for more to be created.
Phreak focuses on a single champion for each video. He reviews each skill, demonstrates their usage, and explains why they are used that way. Some videos have included one of the character developers to explain more in-depth about how they designed the character to be used.
While the videos were accurate at the time of release, many of the characters have undergone significant changes to their abilities and surrounding gameplay, some even to the level of full reworks. Older videos aren't entirely accurate, so they should be used with discretion. The table below can assist in assessing video validity.
The videos can be found on the official site and on their YouTube channel.
List of Champion Spotlights
Out of the 145 released Champions, 131 have at least 1 Champion Spotlight, and 23 having 2. Please note that the information in the Champion spotlights may no longer be accurate.
Champions without Spotlights
Champions with Two Spotlights
Media
Community content is available under
CC-BY-SA
unless otherwise noted.