Fire Emblem Warriors: Three Hopes - The Loop
Play Sound
For the rarity of card, see Champion. For other uses of the word, see Champion (disambiguation).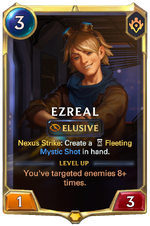 EditChampions are a type of

Unit.
A champion is able to
Level Up to transform it and every other allied copy of it in the game that could ever exist into a new card instantly, keeping all effects applied to it and damage taken, which has its own interactions as well. While there is an allied champion alive, any copies of it in hand are instead a Champion Spell.
Champions are all based on Champions from

League of Legends.
Mechanics
While there is an allied champion alive, any copies of it in hand transform into a 'Champion Spell'. It changes back into the Champion when there is no longer one alive. See Champion Spell for more information.
However, this doesn't mean that duplicate champions can't be on the board, as there are various effects that can in some way allow you to have a duplicate, such as copy, exact copy,

summon from deck, and

revive effects.
Level up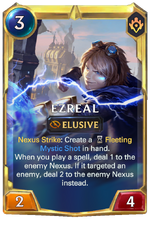 EditLevel Up is a keyword that causes a

champion card to transform into another card instantly, playing an animation, keeping all effects applied to it and damage taken and counting as the same unit.
Each Level Up has a corresponding trigger condition and the transformation occurs instantly when the condition is met and a copy of the card is in play, and sometimes another specified effect will occur simultaneously.

For example, a Champion with Level Up: I have attacked twice. When I level up, create x card in hand. would Level Up after a copy of it commits a second

attack, and it would create x card in hand instantly.
The transformation persists for the remainder of the game. All collectible champions possess this keyword and most will only level up once. Champions that have their level up conditions met when not in play will appear to be levelled up in the Popup that appears when the deck is clicked, but will not actually level up until brought into play.
The only exception to this rule is

4Gnar as he can level down.
Deck Limitations
The number of copies of a Champion that can be in a Constructed deck is dictated by the Deckbuilding Rules. In most rulesets, including notably Standard Rules, a player can have at most 6 total champion cards in their deck. All the normal restrictions on how many copies of any individual card can be in a deck also still apply.
Expeditions
In Expeditions, a player has 2 champions in their initial deck. As the player progress in a trial, they can earn more champions cards.
Development
"
There's kind of a priority system we use (when deciding on champions) - Riot loves frameworks. The thing that's most important to us is that the game is fun. And so, when we're trying out new champions, or trying to figure out potential champions to use in each release, we want to pick champions that will work together and make for the most compelling and fun gameplay. And we do also consider how popular the champion has been in League of Legends ... it's kind of a mix of how popular the champion is, and what players want to see ... but that again is secondary, as we have learned that just because a champion is not popular in League of Legends, does not mean it will not be popular in Legends of Runeterra.[1]
— Travis 'Dovagedys' Boese, 22 December 2020
According to Riot Dovagedys, as of December 2020, the champions to be released into the game are planned up to the full first half of 2022, which helps with balancing earlier releases.[2]
Trivia
All Champion cards are inspired by Champions from the game, League of Legends.

3

 Senna, Sentinel of Light and

7

 Yone, Windchaser are the only Followers in Legends of Runeterra that represent a character that has a Champion in League of Legends, though at different points in time ( and respectively).
List of Champions
All of the cards have the rarity of

Champion.