Champions
are a type of

Unit
.
A champion is able to

 Level Up to transform it and every other allied copy of it in the game that could ever exist into a new card instantly, keeping all effects applied to it and damage taken, which has its own interactions as well.
Champions are all based on Champions from

 League of Legends.
Mechanics
While there is an allied champion alive, any copies of it in hand transform into a 'Champion Spell'. It changes back into the Champion when there is no longer one alive. See Spell (Legends of Runeterra)#Champion Spell for more information.
However, this doesn't mean that duplicate champions can't be on the board, as there are various effects that can in some way allow you to have a duplicate, Dawn and Dusk, Splinter Soul, and The Rekindler to name a few.
Level up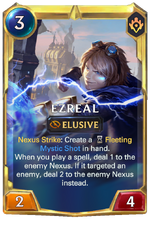 Level Up is a keyword that causes a

champion card
to transform into another card instantly, playing an animation, keeping all effects applied to it and damage taken and counting as the same unit.
Each Level Up has a corresponding trigger condition and the transformation occurs instantly when the condition is met, and sometimes another specified effect will occur simultaneously.

For example, Level Up: I have attacked twice. Create x card in hand. would cause the card to transform after it commits a second

 attack and it would create x card in hand instantly.
The transformation persists for the remainder of the game. All collectable champions possess this keyword and most will only level up once. Level up animations for champions that levelled up while not on the board play when they're

 summoned/otherwise brought onto the board.
Deck Limitations
In Collected decks, a player can have at most 6 champions in their decks. These cards can be from different champions, or be duplicates. Just like other cards, a player can have at most 3 duplicates of one champion.
Expeditions
In Expeditions, a player has 2 champions in their initial deck. As the player progress in a trial, they can earn more champions cards.
List of Champions
Currently, each region has 5 different champions. All of the cards have the rarity of

Champion.

 Demacia

 Noxus

 Freljord
 Piltover & Zaun

 Ionia

 Shadow Isles
Trivia
Community content is available under
CC-BY-SA
unless otherwise noted.