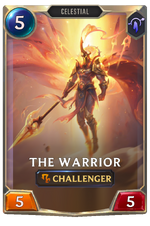 "
"Look to the night sky. Take in the stars' brilliance, and let them suffuse you with their healing light."
— Soraka, on

7

 Cosmic Inspiration

Celestial is a special group unique to a small set of non-collectible

Targonian cards covering the full range of

costs. They can initially be generated in-game using the

Invoke mechanic (
6 exception), by some other Celestials, and

10Aurelion Sol.
The Celestial cards are thematically associated with the constellations and ethereal beings of the celestial realm. They're also largely associated with Aurelion Sol's gradual escape from the control of

Targon and eventual goal of
15 destroying it, and the world of

Runeterra itself.
Strategy
"Time for a shakedown."

This article or section may require clean-up to meet League of Legends Wiki's quality standards. Reason given: none.

Please help improve the article if you can.
Celestial Cards do not share one single common keyword. However, Challenger, Overwhelm, and Elusive are found on multiple units.

The units with a mana cost of 7 or higher also share the text "When I'm summoned, grant me +1|+0 for each Celestial card you played this game."
Most of the spells relate to obliterating enemy units or dealing damage.

Celestial cards are not collectible and can only be summoned by using cards with Invoke.
A common strategy is to use Invoke often, stalling the game with the lower cost spells and units.
Trivia
List of Celestial cards
List of cards generating Celestial cards
For the list of Invoke cards, see List of Invoke cards
See Also