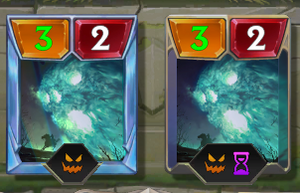 Card styles are a way to customize cards.
Introduced in V1.16, starting with Prismatic.
Once a style for a card is unlocked, it will apply to all copies of the card put into your Deck when built ( 𝐏𝐄𝐍𝐃𝐈𝐍𝐆 𝐅𝐎𝐑 𝐓𝐄𝐒𝐓 if they apply to cards in deck in non-constructed modes), and any copy of a card created by another will have its creator's style, or lack of, applied to it.
Unlock
Prismatic card styles can be unlocked by:

See Essence page for details.
.
Prismatic Chests, pick three of the cards you own with the Style applied.
Prismatic Card Style
Prismatic card style has a silver border with Unit and gold with Champion with holographic effect in the card image.
Community content is available under
CC-BY-SA
unless otherwise noted.