Fire Emblem Warriors: Three Hopes - The Loop
Play Sound
Camille is a champion in League of Legends.[1]
Abilities
Adaptive Defenses goes on cooldown after the shield expires or is destroyed.
The shield-typing is determined based on the total damage the target has dealt to champions that game (as a percentage) versus Camille's current  

 

physical shield versus champions primarily dealing

magic shield versus champions primarily dealing

health bar:

shields

except .
Camille can move during the delay, but the hitbox and Camille's visuals are fixed to the initial target direction.

Camille's facing-direction, for effects such as , is the direction she is moving, and not the direction the model is facing.

The 50% damage reduction against non-epic monsters applies after the cap. Because of this, the actual cap against non-epic monsters is 150 damage.
Because the increased damage in the outer range of the cone is dealt as an additional instance of damage (as opposed to bonus damage to the original instance), it will trigger effects twice such as being reduced by an extra time.

(bug)

It still belongs to the same cast instance, therefore it does not trigger additional stacks of or .
Notes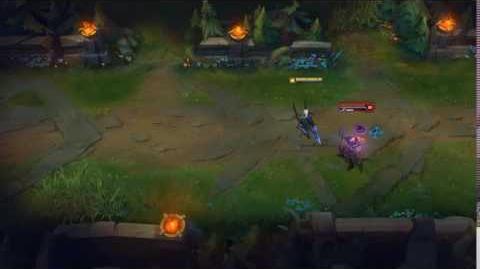 Notes
Wall Dive count as an ability activation for the purposes of on-cast effects such as Spellblade and stacking .
Despite what one might assume from a wall-jumping ability, Wall Dive can be used to go through terrain (including the terrain she is bound to).
Casting Wall Dive's dash will interrupt it but Camille will affect enemies around the new location.
during
Wall Dive is disabled while grounded or rooted.

Wall Dive will not automatically cast from movement or attack commands in both cases. While grounded, however, Camille is able to move while bound. She may still dash away from her current location once the grounding finishes.

Camille will only gain a range indicator towards each valid champion within the extended dash range (800), but will still gain the extended dash range without the indicator against enemies within the 1400 range.

She does not have to see any enemy champions to gain the range indicator or extended range.

Displacement immunity will not resist the application of the stun.
The following table refers for interactions while Camille is bound to terrain:

When Camille is interrupted, she will automatically cast Wall Dive. The only exception is if she was interrupted by casting or , in which case Wall Dive cancels.
Attacking
Initiates the dash towards attack target.
Abilities
and are usable. is disabled.
Movement
Initiates the dash towards the commanded location.
Items
Usable
N/A
Disabled
N/A
Interrupted by
All items interrupt
Consumables
Interrupts
Spells
Usable
N/A
Disabled
Interrupted by
Interrupted by
Death
Cast-inhibiting effects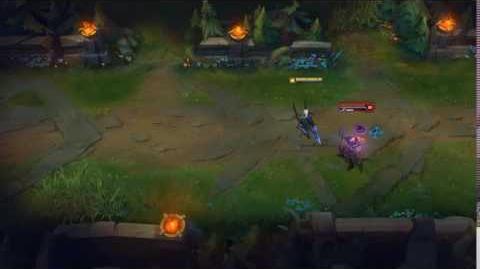 The disrupt is 'nested' into a 0.4-second Silence debuff on the target, but unlike normal silences, this debuff does not actually make the target unable to cast. Instead, this makes sure that the disrupt is prevented by immunity to silences.
While the target is affected by The Hextech Ultimatum, they cannot use .
Camille will attempt to basic attack the target upon landing.
Camille will track the target if they change locations.

She will always land and create the zone after 0.5 seconds.

If the target becomes untargetable, dies, or moves

2000

or more units away during the dash, it will be interrupted and the ability's  cooldown and  

Knockaway

speed is 1000.
If the target manages to be outside of the boundaries, they will immediately be pulled back towards the center of the hexagon.
The boundaries are not considered terrain (

Dashes, blinks, displacements, and other forms of movement will cap their effect range to the boundary. Targets will stop at the boundary even after it expired.
will still deal damage at the hologram's location.
An active The Hextech Ultimatum ends. She can knockback and damage secondary targets multiple times.
on a target outside the perimeter will cause to continue her charge until
If the target attaches to a unit, they will only be displaced back inside once they detach. The Hextech Ultimatum does not end nor break the bind to the victim.

allows him to cast it even if his target is outside the area, dashing through the borders and attaching despite being unable to escape.
allows her to bypass the borders if the unit she attaches to leaves the area.

If the target of The Hextech Ultimatum, they can go through the borders while attached to him.
is also the target of

does not allow him to pass through the borders and the dash will end prematurely when he encounters them.

exception), and enemies that try to move out of the area will be displaced back inside.
If Camille enters resurrection during the initial cast, the dash is stopped and the zone is formed immediately.

The Hextech Ultimatum ends if the target enters resurrection, but not if Camille does.

The Hextech Ultimatum ends immediately if the target is dragged by .
The following table refers for interactions while Camille is dashing.
Attacking
Disabled
Abilities
Disabled
Movement
Disabled
Items
Usable
N/A
Disabled
All items are disabled
Interrupted by
N/A
Consumables
Disabled
Spells
Usable
N/A
Disabled
Interrupted by
N/A
Interrupted by
Death
Champion skins
This article section only contains champion skins. For all associated collection items, see Camille (Collection).
Weaponized to operate outside the boundaries of the law, Camille is the Principal Intelligencer of Clan Ferros—an elegant and elite agent who ensures the Piltover machine and its Zaunite underbelly runs smoothly. Adaptable and precise, she views sloppy technique as an embarrassment that must be put to order. With a mind as sharp as the blades she bears, Camille's pursuit of superiority through hextech body augmentation has left many to wonder if she is now more machine than woman.

Emily O'Brien

Evan 'Somnicidal' Monteiro

Loot eligible
Patch history
For the expanded patch notes, see here.
Stats

Base health increased to 646 from 576.
Health growth increased to 99 from 85.
Armor growth increased to 5 from 3.8.
Magic resistance growth increased to 2.05 from 1.25.

Shield health ratio reduced to New Effect: Now trigger spell effects when dealing damage.
Cooldown increased to

20 / 15 / 10 (based on level)

seconds from

16 / 13 / 10 (based on level)

.

Bug Fix: Fixed a bug where it would get cancelled upon using any consumables.
Bug Fix: Heal now properly takes into account her outer cone bonus damage, not the inner cone damage.
Cooldown increased to 17 / 15.5 / 14 / 12.5 / 11 seconds from 15 / 13.5 / 12 / 10.5 / 9.
Stats

Base health increased to 576 from 575.6.
Not functional: Base magic resistance reduced to 32 from 32.1.
Stats

Mana growth increased to 52 from 32.
Bonus attack speed reduced to 40 / 45 / 50 / 55 / 60% from 40 / 50 / 60 / 70 / 80%.
Indicator added to show recast ability timer.
Indicator added to show empowerment timer.

Indicator added to show empowerment timer.
Bug Fix: Now properly converts bonus damage to true damage.
Stats

Base attack speed increased to 0.644 from 0.625.
Removed: No longer collides with minions or monsters, stunning them for 0.75 seconds.
Stats

Base attack speed reduced to 0.625 from 0.644.
Base damage reduced to 60 / 95 / 130 / 165 / 200 from 75 / 120 / 175 / 210 / 255.
Shield duration increased to 2 seconds from 1.5.

Time to use second cast increased to 3.5 seconds from 3.
New Effect: Timer displays on icon showing second cast availability.
Stats

Base attack damage increased to 68 from 60.
Base armor increased to 35 from 26.

Base damage increased to 70 / 100 / 130 / 160 / 190 from 65 / 95 / 125 / 155 / 185.

Base damage increased to 75 / 120 / 175 / 210 / 255 from 70 / 115 / 160 / 205 / 250.
Cooldown reduced to

16 / 13 / 10 (based on level)

seconds from

20 / 15 / 10 (based on level)

.

Empowered second attack bonus damage increased to 100% from 80%.
Removed: Outer half healing against minions and monsters. Now only heals against enemy champions.

Duration reduced to 2.5 / 3.25 / 4 seconds from 4 at all ranks.
Bug Fix: Fixed a bug where the second cast of Hookshot wasn't granting attack speed on hitting an enemy champion if she buffered her .
Bonus damage on second hit reduced to 80% from 100%.

New Effect: Now decays fully to 0% over the duration.
Slow reduced to 80% from 90%.

Mana cost increased to 70 from 50.
Stun duration reduced to 0.75 seconds from 1.
New Effect: Now only grants

Removed: No longer persists for its full remaining duration after Camille dies.

New Effect: Now dissipates within 1 second after Camille dies.
Bug Fix: Second cast now correctly damages wards at level 16 and higher.
Stats

Health growth reduced to 85 from 95

Duration reduced to 1.5 seconds from

1.5 / 2 / 2.5 (based on level)

.

Slightly increased radius where Camille will reveal herself if Hookshotting near enemies while she is in Fog of War.

Knockaway speed increased to 1000 from 600.
Knockaway stun now only lasts until the target lands, rather than a 1-second fixed duration.
Bug Fix: Border no longer disappears under elevated terrain.
Bug Fix: The green triangle patterning on the ground during Program Camille's The Hextech Ultimatum no longer fails to appear if the camera moved away during the cast time.
Stats

Base attack damage reduced to 60 from 62.

Second hit true damage conversion reduced to

40 − 100 (based on level)

% from

55 − 100 (based on level)

%.
Camille's next basic attack against enemy champions is periodically enhanced to shield her for Static Cooldown:

20 / 15 / 10 (based on level)

- Innate

Camille's next basic attack deals

55 − 100 (based on level)

% of the damage is dealt as true damage. Both casts of Precision Protocol reset Camille's auto attack timer.
Cooldown: 9 / 8.25 / 7.5 / 6.75 / 6
Cost: 25

- Q spell

After a brief delay, Camille sweeps her leg to deal 65 / 95 / 125 / 155 / 185 slowed by 90%, decaying over 2 seconds, and take Cooldown: 15 / 13.5 / 12 / 10.5 / 9
Cost: 50 / 55 / 60 / 65 / 70

- W spell

First Cast: Camille fires a hookshot in the target direction that attaches to terrain, causing her to dash to it and enabling the second cast.
Second Cast - Wall Dive: Camille dashes to the target location, range doubled if she is leaping toward an enemy champion. Upon colliding with the first enemy struck or finishing the dash, Camille deals 70 / 115 / 160 / 205 / 250 stuns them for 1 second. If Camille strikes an enemy on the second cast of Hookshot, she gains Cooldown: 16 / 14.5 / 13 / 11.5 / 10
Cost: 50

- E spell

Camille dashes toward the target enemy champion, becoming untargetable during the leap. When she lands, she creates a locked, hexagonal zone around the target for 4 seconds, knocking away all other nearby enemies on impact. The target can move freely inside the zone, but cannot escape it through any means. While within the zone, Camille's basic attacks deal 5 / 10 / 15 Cooldown: 140 / 115 / 90
Cost: 100

- R spell
Trivia
Camille is one of 22 champions without a single  ability power ratio on any ability: , , , , , , , , , , , , , , , , , , , , and .
Camille was the last champion released in 2016, designed to make players 'feel like in-control badasses'.
Her design bears a very strong resemblance to ​​​​Lin Beifong from the series Legend of Korra, with similar appearance, profession, and fighting style. She may have also been influenced by Gazelle from the movie Kingsman: The Secret Service.
Camille's passive is so far the only instance of a shield that exclusively protects from physical damage.
Camille is the French derivative of Latin Camilla, feminine form of cognomen Camillus.

Camillus/a means 'temple attendant,' and has no Latin root. Earlier forms include Greek Κάδμος-Κάμιλλος-Κᾰσμῖλος-Κᾰδμῖλος, loaned from Pre-Greek *Hatʸmilʸ-.[2]
The name Camille could also be a reference to the mythological warrior Camilla who appears in the second half of Vergil's Aeneid on the side of the Rutulians. She is a warrior virgin queen of the Volsci and serves under the goddess Diana. She was said to be so swift-footed she could run through a wheat field without breaking the tops of the stalks and run across the ocean without wetting her feet.

Her dance references the Airflare, a breakdance move.
She was first mentioned in pre-rework The Shadows Beckon which is no longer canon.
color story
See also
References
↑ Beekes, R.S.P. Etymological Dictionary of Greek, pp. 613-4
↑ DeVaan. Etymological Dictionary of Latin and the other Italic Languages, p. 213, 214