New Pokemon Games - The Loop
Play Sound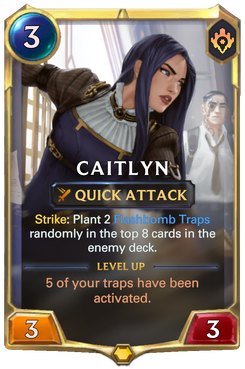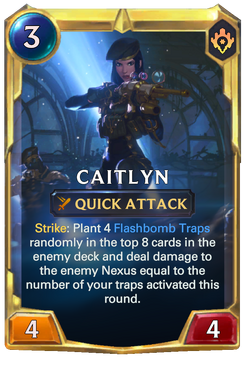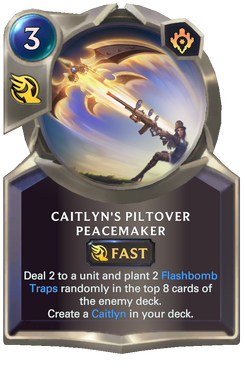 Quotes
Allied

1Teemo present
Allied
3 Station Archivist present
Allied
2 Sting Officer present
Enemy
6 Corina, Mastermind present
Enemy

4Grand Overseer Veigar present
Allied

4Jinx
Enemy

4Jinx
Allied

5Vi
Enemy

5Vi
Allied

1Teemo
Enemy

4Veigar
Enemy

4Grand Overseer Veigar
Allied

4Viktor
Enemy

4Viktor

Allied
6 Corina, Mastermind
Enemy
6 Corina, Mastermind
Allied
4 Justice Rider
Allied
3 Station Archivist
Allied
2 Sting Officer
Allied
1 Stinky Whump
Allied
1 Advanced Intel
Allied
2 Ambush
Allied
5 Coup De Grace
Allied
3 Insider Knowledge
Allied
3 Piltover Peacemaker
Turn timer appears
Enemy turn timer
Allied turn timer
Chosen
Removed from choice
Victory
Defeat
Skins
Level 1
Caitlyn was always a dogged and thorough investigator, a quality that helped propel her fast through the ranks of Piltover enforcement. But when a case concerning a certain 'C' came along, one that countless other enforcers had abandoned, it seemed almost as though Caitlyn had finally met her match. Almost.
Level 2
She burst in, leveled her rifle at the culprit, and looked down the scope. There, smiling through the looking glass, was a familiar face.
Battle Academia Caitlyn: Common Skin
Perfection is a choice.
Features:
This skin is available for purchase.
Level 1
"You're new here, Caitlyn, so let me catch you up. Nobody here cares about your weapon or your good grades. Turn your nose up all you like, but if you come in here assuming this school works like your last, it's gonna eat you alive."
- Corina
Level 2
"I'd like to repay your sentiment, Corina, so let me 'catch you up.' My rifle does not define me, and neither does this school. A leader - a General - shapes everything around them, not the other way around."
Gilded Caitlyn: Common Skin
Piltover's finest, at your service.
Features:
This skin is available for purchase.
Level 1
The city was by no means perfect, but it was HER city.
Level 2
For Piltover to stand as a true pillar of progress, the city needed to change. Caitlyn had been asked to stand before this crowd, to smile and curtsy as she had before. But tonight, she'd decided, would be different.
Change Log
Caitlyn (Level 2)
V2.14
Caitlyn's Piltover Peacemaker
V2.19

Text becomes: "Deal 2 to a unit and plant 2

0

 Flashbomb Traps randomly in the top 10 cards of the enemy deck. Create a

3

Caitlyn in your deck."

Old Text: "Deal 2 to an enemy and plant 2

0

 Flashbomb Traps randomly in the top 10 cards of the enemy deck. Create a

3

Caitlyn in your deck."

V2.14