Bramble Vest
is an
advanced item
in

League of Legends
.
Recipe
Cost Analysis
Gold Value
Gold Efficiency*
70%

gold efficient, without its passive.
is
Builds Into
Similar items
Notes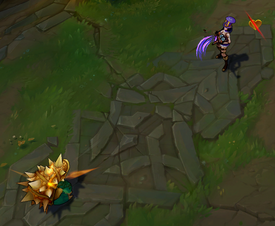 Strategy
on-hit healing to survive fights (such as life steal).
is a particularly effective defensive option when facing down opponents whose damage is dealt primarily through basic attacks, or against opponents that utilize
Unlike Bramble Vest's magic damage does not trigger spell effects.
and ,
Trivia
Bramble Vest's icon looks similar to .

Patch History
Base damage reflected reduced to 3 from 15.

New Effect:

Now scales with 10% of bonus armor.
Thorns base damage reflected reduced to 15 from 20.

Removed:

Applying Grievous Wounds to non-champions.
+35 armor.

Unique Passive – Thorns:

Upon being hit by a basic attack, reflects 20 magic damage, inflicting Grievous Wounds on the attacker for 1 second.
Builds into
.
References
Starter items
Potions and Consumables
Trinkets
Distributed
Basic items
Advanced items
Finished items
Minion and Turret items
Special Game Mode Exclusive items
Removed items
Community content is available under
CC-BY-SA
unless otherwise noted.