Raise a Floppa - The Loop
Play Sound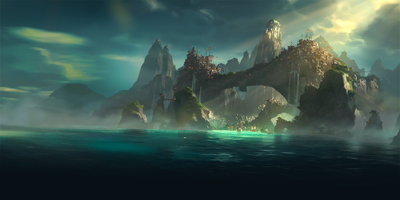 For the lore region, see Bilgewater.

Bilgewater is a Legends of Runeterra

regional card set based on the lore region of

Bilgewater, and the rest of the

Serpent Isles. It was released with
Set 2 (Rising Tides).
Bilgewater is a place of new beginnings and those that come parley with death for a chance at that opportunity. Control massive sea monsters and
plunder the enemy


nexus to send your opponent to a watery grave.
Description
Official Description

Risk and Reward
Across the Guardian's Sea, nestled amongst the Blue Flame Isles,

Bilgewater Bay is as lawless as the denizens that call it home. Smugglers and cutthroats lay claim to these shores, making a name for themselves with sharp minds and sharper blades. The land is not the only perilous place, for danger lurks beneath the waves. Are you prepared to risk it all for the ultimate prize?
Mechanics
Targeting
Direct Damage
Nexus damage
Secondary Mechanics
List of Cards
Gameplay
Some of Bilgewater's gameplay focuses largely on risk-reward, and has more effectively random effects than any other regions, while still keeping to Legends of Runeterra's focus on reducing randomness compared to other card games.

See the developers' Design Dive for more on this.
This is achieved through the use of Draw, Fleeting, and Random effects with less uncertain outcomes. Generally, this is thematically associated with gambling, in-universe card games and tricks, and magic. See the respective pages for more on the themes associated.

The region has a high amount of Draw and cards that synergise with it, compared to others, second only to Piltover & Zaun.
Another aspect of the region's gameplay is Nexus damage.

This is achieved through the use of Plunder, which itself also plays into risk-reward, and strategic play. (See Plunder for themes associated.)

These effects are generally facilitated within the region with spells that deal damage directly to the enemy Nexus. These are thematically associated with Black Powder weapons, such as cannons and firearms.

There is also a minor focus on Spell-casting in this region, with Attune cards, and cards that draw spells or benefit from them being cast.

This is thematically associated with the magic power hidden in the sea, either in the deep, or in the Guardian's Sea's Azure Way. See Attune for more on the themes associated.

Yet another aspect of the region's gameplay is Mill, going deeper and deeper in your deck and benefiting from it, filling your board with large units later in the game.
The region also has many effects that in various ways revolve around stealing enemy cards, such as Nab and

6

 Strong-arm. This is pretty unique to the game, along with other (more specific) effects that allow the player to create cards from other regions, such as

4

 Island Navigator and

5

 Treasure Trove. This isn't unique to the region, but is very much more present in Bilgewater and to a lesser extent Piltover & Zaun.
A mechanic completely unique to the region is shuffling cards into decks - this is similar to Recall, but generally costs considerably more or requires a condition to be met.
Trivia
Bilgewater region was the first region released with the global launch of Legends of Runeterra.
The icon used in-game is a simplified version of the Bilgewater crest, but much less simplified than many of the other regions, especially Piltover & Zaun and The Shadow Isles.

Before the release of Bilgewater, some voicelines from Set 2, its release set, and some from Set 3 were found in the files of the game.
Since the game's release, an icon for Bilgewater was found in the files of the game. It had a different gradient to the final one used, has no black outline, as well as some more subtle differences.
Media
References