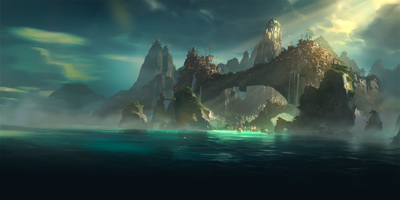 For the lore region, see  Bilgewater.

 Bilgewater is a Legends of Runeterra regional card set based on the lore region of

 Bilgewater.
Bilgewater is a place of new beginnings and those that come parley with death for a chance at that opportunity. Control massive sea monsters and
 plunder the enemy


 nexus to send your opponent to a watery grave.
Main Mechanics:

 Attune,

 Deep,

 Draw (Allied and Enemy),

 Fleeting,


 Immobile,
 Plunder,

 Random,
 Toss,

 Vulnerable, Direct Damage,

 Skill/

 Spell buffs,


 Nexus damage
Lesser Mechanics:

 Attack,
 Elusive,

 Fearsome,

 Rally,

 Scout .
Description

Risk and Reward
Across the Guardian's Sea, nestled amongst the Blue Flame Isles,

 Bilgewater Bay is as lawless as the denizens that call it home. Smugglers and cutthroats lay claim to these shores, making a name for themselves with sharp minds and sharper blades. The land is not the only perilous place, for danger lurks beneath the waves. Are you prepared to risk it all for the ultimate prize?
List of Cards
Trivia
Media
References
Community content is available under
CC-BY-SA
unless otherwise noted.