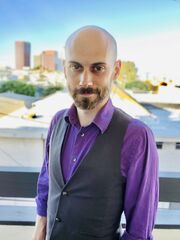 August 'August' Browning is currently working as a Principal Champion Designer at Riot Games Inc.
About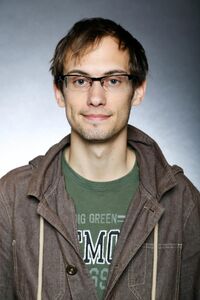 Browning is from Alaska, and joined Riot late in 2012 immediately after graduating from university. He had spent many an hour playing DotA and League of Legends in his spare time and even used it as the basis for some of his educational works.[1]
Browning initially joined as a Champion Designer before temporarily switching to the development of the Untitled adventure game from August 2016 to December 2017.
For 12 years, Browning called himself 'gypsylord' after Gypsy, his first dog. After gaining global perspective, he realized the term gypsy was racially charged in Europe. He then changed his name to 'groovylord', 'jinxylord', then settled to 'Riot August'.
<soundcloud url="https://soundcloud.com/leaguepodcast/episode-6-jhin" width="500" height="100"/>
This week, we sit down with Champion Designer August 'gypsylord' Browning - join us as we chat with him about his board game habit, champ design at Riot, and developing Jhin (see 8:50).
Contributions
Champion Design
Champion Rework
Systems Design
Game Modes
Links
References
Leadership
Corporate
Production
Producer

Carl 'Status Kwoh' Kwoh
Mark Franz
Steven Snow

Assistant Producer

Aaron 'Lindorn' Smith
Ryan 'RyanLaughlin' Laughlin
'TheGreatHembini'

Associate Producer

'Gifted Wolf'
Karen 'KarrieBear' Wnuk
'Stallion'

Miscellaneous Producer

Jason 'FastLoris' Lenny
'MrCrumb'

Operations

Chris Ward
Chris Collier
Nathan Ben-Attar

Engineering

Andrew Woo
Barry Livingston
Christopher McArthur
Cyriaque Kouadio
David Banks
David Eilering
George 'Fruitstrike' Skleres
Jianfei Liao
Joel Anderson
Jonathan McCaffrey
Kevin Borer
Kirk Black
Luke 'Rabid Llama' Rinard
Michael Root
Mike Matsumura
Ray Perez
Scott Delap
Scott Gelb
VerrDon Mason
Vic Keenan

Art
Narrative

Joe 'ManWolfAxeBoss' Lansford

Design
Game Design

Andy 'fantasyworld' Ho
Mark 'GMang' Sassenrath

Technical Design
Community

Quentin Chappet
Radosław Pasternicki

Quality Assurance
Customer Service
User Interface
Marketing

Andy 'fantasyworld' Ho
Chris Enock
Chris Heintz
Jeffrey Pfingsten
Laura 'Moneypenny' Brown
Kevin Cheung

Business Development
List of people without article
Community content is available under
CC-BY-SA
unless otherwise noted.