Fire Emblem Warriors: Three Hopes - The Loop
Play Sound
The Argent Mountains is a vast mountain range located in the southwestern part of Valoran and in southern Noxus.
Lore
Noxus controls a small portion of the mountain range on its south-eastern and south-western parts. Its coastline has Noxian conquered settlements of Glorft, Kilgrove, Trevale. The mountain range borders close to the Varju Mountains on the east and the Gates of Mourning on the west.
Champions of the Argent Mountains
Related Champions
led a major military campaign here.
was present during the Assault on Glorft and Sacking of Trevale.
died first time outside of Hvardis; Leveled the city.
ordered the city to be leveled to the ground.
Locations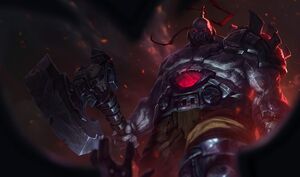 Gates of Mourning: They are located in the southwestern tip Noxus and central Valoran. They were used to guard the neighboring lands from Noxian invasion before their recent fall. They are also located west of Hvardis. The Gates are the location of the first battles between Demacia and Noxus. In modern times it was retaken by the Trifarian Legion.
Glorft: Located south of the Argent Mountains on the coast. It is unknown if this city is under control of Noxus but it was the location for the Assault on Glorft, led by . 
Hvardis: A city that was located at the edge of the Argent Mountains near the Gates of Mourning. It has since been decimated by as ordered by to discourage and further rebellion from conquered settlements.
Kilgrove: Located south of the Argent Mountains on the coast, Kilgrove is currently led by Steward Dauvin, who seems to have replaced his predecessor Thomark quite recently. Its primary export is Kilgrovian cloudcedar.
Trevale: a farming village on the western edge of Noxian territory. was part of the initial Noxian party that sacked the village. was born and raised here.
Wildlife
Bellswayers
Bellswayer is a proud, celestial creature native to the Argent Mountains, the Bellswayer's beautiful chiming bells inspire and compel other sprites to attend them. Though they startle easily, bellswayers are just as quick to resume a composed and regal posture.
Media
References